A Colorful Personality
November 17, 2017
A Co Being an artist is a hard way to make a living. It seems like no one wants to buy the paintings I make. It seems like no one ever likes having paintings in their houses anymore. My friends and family warned me against this path to becoming an artist for this exact reason, but my stubborn self just had to stay on this impossible path to become a professional artist. Arnold Howard Zipens, I thought to myself desperately, I need a reliable way to pay my bills, . . . but how?
BEEP! BEEP! Went the alarm as I crawled out of my bed on the morning of March 15th in the small town of Torrey, Utah. Torrey is a really beautiful place, yet it's only a small town of 182 by a huge National Park called Capitol Reef. Each day I drive myself to Capitol Reef to see the amazing views and draw. It's not easy drawing there due to the huge amount of visitors, yet I manage to concentrate on my work. As I went on my 15 minute daily drive, I thought about tax day and how close it is already. It's March already and it's already only 32 days away from tax day. How am I going to even pay off half of it? I better make a pretty fantastic painting I thought to myself. $200 per project is really not enough.
After I reach the National Park, I unload my load and take all my stuff as I started my hike to find a decent place to draw on the 2 mile scenic trail called "Golden Throne." It took a while to find a nice place to stop and start drawing the scene. The soon to be masterpiece was a view of a small puddle of water with the reflection of the overlooking rock.
"This could be a really fantastic picture!" I thought to myself aloud as I set down my stuff and started to work.
I carefully started outlining the overall view of the landscape and all the geographical features then laid out the smaller details, the details that will be the difference of a good drawing and a spectacular drawing. Quickly yet cautiously I placed all of the outlining and started coloring as a group of tourist walked by.
"Mom, what is that person doing there?" Inquired an uneducated 6 year old.
"Edwin, he's painting picture," his mom replied with a slightly worried tone. "Let's move on and let him draw in peace,"  she suggested as if Edwin, the 6 year old, would ruin up my picture.
Then out of nowhere Edwin dashed towards my sketch and me and tackled us as I tried to protect my property.
"WHY?!" I hollered as loud as I could while bystanders quickly shuffled past.
I felt beyond rage beyond rage in what could have been a first-rate picture is now gone. As I kicked away the now useless rubbish, I restarted. This time no one shall ruin my painting. Again, I placed down the landscape feature but I also added some of my emotions into the picture.
The faded yellow rock is now blood red to reflect my rage and splatter blue sky to reflect my passion to art, and not giving up. One stupid child or even taxes aren't going to stop me, I thought. As I applied one layer of color at a time I began to forgive the young child and started to thank him. He's let me improve where I messed up. He allowed me to get a step closer to perfect, and most importantly he showed me that I could get through any hardship that comes towards my way. I could give it my all for anything and everything, I could redo anything that needs to be redone, I could ignore giving up, and I could be patient with my work, and take the time to do it right. These features allow me to sell my pictures with other people who could relate to my feelings.
To this days I follow those rules to become such a better person. I became more optimistic, and now I'm a world famous artist. I'm really thankful for this event in my life, and frankly, I want to thank Edwin for showing me what G.R.I.T is.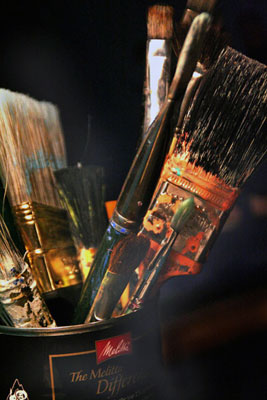 © Marina L., Orlando, FL