My Dream Place
November 17, 2017
My name is Sandy Logan. I am seventeen years and three hundred sixty four
days old. I have never been outside our family farm in Alabama. I've always imagined
on my eighteenth birthday that I would leave this puny little life and move to the big city,
New York. This would make my life, what's the word . . . complete!
Don't get me wrong. Living here is okay. My days start very early on the farm. I
am the only child in my family and responsible to do most of the everyday chores such
as milking the cows, feeding the animals, and collecting eggs from the small chicken
coop.
"Hey, Milky Way and Daisy," I greet my cows.
"MOOOOO," the cows answered back.
As I finished up with the cows I started walking towards the chicken coop.
"Cluck,Cluck," the chickens screamed at me as I one by one grab eggs from their
nests.
Everytime I do these chores I always end up with hands that reek and feathers
tangled in my dirty blonde hair. I have a wonderful and loving family but money is hard
to come by. Not having money is immensely challenging. It's tough not being able to
get what you want and go where you want. I have always felt like there was something
out there for me instead of here.
When I'm not at the farm, I practice my many expertises. This includes tinkering
with the machinery and farm equipment. I once fixed my dad's tractor with just a
screwdriver and wrench. I also love to get creative with anything I see. I've decorated
my bedroom 5 different times in the last year using scraps and old clothing I found in
our family shed. I'm hoping to use some of these skills in New York.
I've been saving every penny I've made since I was 9 years old and think that I
have finally saved enough for the train ride there and to get me a place to start off with.
On the eve of my eighteenth birthday, I rest here in my bedroom counting all that I
saved, I'm still short. Time to go rest my eyes as my dull morning awaits me.
As the sun rises and our crazy rooster crows, I slowly open my eyes and realize I
still have a lot to be grateful for. I get ready and run downstairs to start my daily chores.
As I walk down, my dad and mom anticipate my arrival at the end of the hallway. With
huge smiles on their faces, I see my dad holding a decorative box in his hands.
"Happy 18th Birthday," they cheered.
As they sat me down on our old flumpy couch they gave me the box. I look at the small
box and slowly open it with excitement.
"Oh my gosh," I screamed.
I cheerfully look at the a train ticket to New York leaving tonight at 6:00 PM and $100
dollars that sat underneath it!
"Just something to get you going for the first part of your new adventure," my
mom told me as she was starting to tear up.
I stood up and wrapped my arms around them, thanking them for everything they
have done for me. I dashed upstairs to pack up my things, my heart was pounding
vigorously in my chest. I couldn't wait for tonight.But what about my family and home?
This is my childhood, I can't just abandon this life. I kept on questioning this over and
over again. After a few minutes of drifting off into my mind I came to a decision and
finished packing. I glanced at my clock, 5:15PM, only 45 minutes to say my goodbyes to
my folks one last time.
We all slip on our shoes and shuffle out of the house. 5:30 PM, 30 minutes to
go. We all get into our bulky unwashed truck and I take a deep breath in through my
nose and out through my mouth.
As we get closer to the station I can hear trains blowing their horns and train
tracks rumbling. My parents and I all step out of the truck and say our farewells. Minutes
later I see them drifting away as the train begins to depart to New York City.
After a day or two of sitting, sleeping, and eating from Alabama to New York, the
train came to a stop. It was a long and tiring journey but it was totally worth it. As I
stepped off the train I went over to get my purple, polka dotted luggage. I start digging
my way through bags and belongings, but no luggage anywhere. I ask some people
around the pile of baggages and no one saw nothing. After searching and asking for
about a hour or so I gave up. Later I start walking towards the station. Suddenly, I hear
a deep, man like voice calling out to a person.
"Miss, is this your luggage," I hear him yell.
I slowly turn around and see the man running with my purple, polka dotted
luggage towards me.
"Is this your luggage," the man questioned.
I answered,"Yes, it is thank you so much!"
Walking away with my luggage, I take a look around and see so many lights in
the streets and skyscrapers rising from the ground to the sky! My exhaustion and
worriness turns into excitement!
I have been so prepared for this moment and had already made a step by step
plan. Step 1 - Get a quaint apartment that I can call home.
Lucky me! As I walk down the main street, I find a place called "New York City
Apartment" with a sign saying "Vacancy". It was meant be. I rushed inside dodging the
traffic of people. I meet Apartment Manager and she showed me to my unexpected
room. There was a frail bed with ripped drapes hanging on the window above it. The
place wasn't bad but it wasn't good either. I didn't care. I was just glad to be here. As I
unpack, I think of the second step in my plan. Step 2 - Find a job.
The next day I went job hunting. I didn't know where to start. I tried to ask
people for some help but everyone was grumpy and in such a rush. The hustle and
bustle of the city became overwhelming. I didn't know what to do. As I started making
my way through the crowded sidewalks it started to get really windy. My hair was in my
freckled face and papers were flying all over the place. If things couldn't get any worst,
a big gust of wind took a newspaper right to my face. The only good thing about that
day was that the newspaper was the job listings. Based on my skills, the job that was
an okay fit for me was being a maid. I went to the address that I searched for on the
paper and applied for the job. The gentleman at the desk told me to come back
tomorrow to get assigned to the house I would be cleaning.
For the first day on the job, I was high-strung but not that much. I knocked on the
door and a tall slender lady answered. "You're late", she told me as she yanked me in.
"The list of your chores is on the fridge. I'll be back promptly 3pm. Two hours should
be enough time to get everything done."
As she slammed the door on the way out, I looked at the long list of chores and
questioned myself, "How am I going to do this in two hours?". I find the cleaning
supplies in the closet and clean like my life depended on it. Before I knew it, the
grandfather clock struck 3 and made a loud noise echoing the house. The lady walked
in and yelled for me to come here. She grabbed the list and went around the house to
see what I have done. She even did the white glove test but with my hard work all she
said was, "This will do." She told me to leave but that she wanted me back at the same
time next week.
When that day came, it was like dejavu all over again. She told me I was late
and that the list was on the fridge. She slammed the door and left as I began to clean.
Two hours passed and she arrived home to check my doing again. This time she told
me her house was a disgrace. She pushed me out and shut the door behind me. I
didn't think this would happen but I didn't lose hope.
I was assigned to another house to clean. When I appeared at the house, I told
myself this time will be different. It was but for the worst. A overweight man answered
the door and yelled at me for waking him up. He mumbled "Clean the bathrooms and
do eight loads of laundry!". I did it all.
Days turned into weeks. Weeks turned into months. Before I knew it was a year
since I got here. The cleaning jobs got better and people actually wanted me to clean
for them and referred me as their friends. It got to the point where I couldn't do it all by
myself. One of my customers suggested to open up my own cleaning service. I had
saved all my earnings since my first job with that tall mean lady and was able to open
"Sandy's Supreme Cleaning Services". I had customers lined up and out the door. As
business grew so did my staff. I went from me to 15 employees.
I thought in my head that I finally accomplished my step by step plan with the
final step. Step 3 - Have a successful and happy New York Life. Check!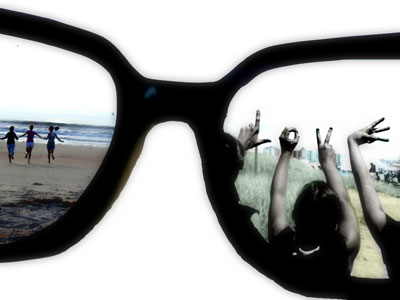 © Christina G., Bedford, NH