Monsoon
March 16, 2009
The cold blizzard feel air rushes through my pale white window pane. All my covers are at the end of my bed and im curled up in a sidewards ball cold and alone. I don't move, i don't shiver. i just sit there like a cat waiting for something to happen and in a way dying.

Dying of my own self depression. The wall i stare at draws a picture. A picture of me just sitting, and watching my life breaking into pieces. Creaks, i can hear coming from the steps. Creak, crack it goes until it reaches my door. The knob struggles it self open and an oval shaped head plops in. My mom. She gently lips the words "you okay, honey?" and walks away.


Hours later it turns to night time and that's when i get up and move. I move slowly and timidly. More afraid than ever. the door is open and i try to step out but my leg retreats back and i wonder. " why am i so scared"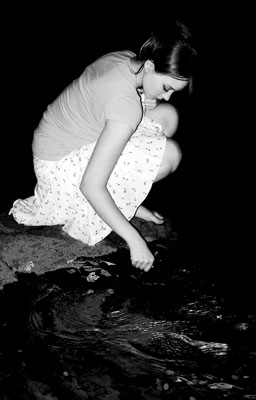 © Michelle B., Blairsville, GA