The Father
March 9, 2009
-Already the fuming form of the boy was two blocks ahead of him, and he would soon be out sight entirely. As he hurried after him he wondered if he would ever be able to draw close to his son again.-


To be brutally honest, Johnny didn't understand the emotions that were running through him. He was so terrified of his father's behavior that he never really took the time to understand why this had begun. It was just something he learned to live yet he knew it was not right the first time his Scout group had a father son canoe trip and everyone else's father attended this trip with pleasure. They were going to have to have the chance to bond with their sons, but Johnny didn't even bother to mention this to his father for the known reaction. He thought it would have went something like this,

"Why do I have to go on this trip? He doesn't need me! He's a man now and men take care of themselves! Let him go alone!" Johnny knew what his father would say, so there was really no point in bringing up this discussing. He hated seeing his mother and father bicker so often the way they did.

Johnny was almost at his front porch now. The tears from his eyes dried from the wind hitting his swollen, red blushed face. He couldn't help but feel disappointed and angry. His father, the man who is supposed to love him and teach him to play sports, had just destroyed the one thing that he had to do himself, the one thing that got him out of the house three times a week and the one place he felt appreciated other than the baseball diamond.

He threw himself up the front steps, and into the house in a matter of seconds. Nothing would fix what just happened, but Johnny was determined to show his anger and maybe find a way to show his father one and for all, what he really was doing to his family. Johnny ran past his mother and into the kitchen. He knew exactly where all the alcohol was hidden and one by one he grabbed the bottle of liquor and smashed them to the floor leaving the pieces of broken glass and strongly scented liquid to shin the dime light of the living room lamp. His mother was standing in the doorway now, not saying anything or giving the slightest attempt to stop him from his destructive rampage. She merely let him express his anger and was waiting for the moment he would break down and begin to shed tears again. This took only a few minutes, once every bottle had been broken, every cupboard fully opened, and every scream and curse had been said, Johnny fell to his knees and covered his face with his bloody gashed hands. By this time, his sister had walked into the doorway with tears of her own. Covering her mouth, she went to hold her little broken hearted brother alongside her mother. All three were now on the their knees sobbing and rocking each other to show that they were each wished everything could be different.




*
*
*
*
*
*



John has not chased Johnny for a simple yet unclear reason. He was not a good parent, and he knew this day would come, but he had not expected it to be like this. In his head, the father was the man of the house. The head of the family body who controlled everything and everyone attached to them in some way, shape or form. As a child, John's father was abusive and carried a similar mindset. The only difference was if John's father did not get what he wanted, he would break anything within arm's reach and would hit his eight sons and daughters, but his wife was the consistent. She was disgusted seeing her very children beaten and would direct his rage toward herself instead. This was truly the cause of her death. One night, John's father had come home drunk than ever before, but this night was very peculiar. None of the children had committed an act of harm that night, bit he expressed a deep scar of hurt only using a bottle of Jamaican rum. The bottle broke with a force filled strike and without noticing, he struck her once more making a gash across her upper chest that punctured her heart and lung. She bleed to death that night in the barn. John's father had not realized his act of guilt until the next afternoon and with his realization, he took off leaving the children to care for themselves. Tim was the oldest therefore took responsibility for his seven younger siblings, John being the youngest at the age of nine.


Johnny's father sat on the curb at the end of his driveway leading up to his 2-story home. Life from the outside of the Purcell's looked quite normally and exquisite, but the family did not have many dinner parties for family gatherings' at their home. They had been terrified of the fact that it might reveal their insecurity and it would shine through their hand detailed mask. A mask that represented everything the Purcell's tried to hide over the years. This man, who was suppose to be a father, sat there wondering if his son was going to forgive him someday but he could not guarantee anything and he did not expect to be forgiven. This was the first time John actually realized the effects his drinking had on his family, especially his only son. His pride and joy usage somewhere inside the young beating heart, but he had to dig deep at that point to find what he was looking for, and it was not going to be easy. He had been told so many times before, but he finally realized that he must change or he would lose everything in the blink of an eye and if he did, it was coming back.
*


*



*

Johnny's father came home about four hours after everyone's tears had dried and emotions were left to sit and create steam. He knew his family would not speak to him so he stayed on the curb, thinking of things he could repair what he had just done. The basement was the warmest part of the house. His wife and daughter had spent three weeks renovating the area so that if company were ever to come over, there was a sense of happiness throughout, even if it was only a basement. Johnny's father once again did not realize what he had done until a few weeks later when he remembered a bottle of Russian Prince Vodka he had hidden behind the couch, not knowing that it had been found and thrown out.

With his head hung low, vision distorted and pale face, Johnny's father walked across his habit bare foot towards the door leading to the basement not realizing that the glass was cutting into his feet and the alcohol would soon retaliate by burning his wounds.
*


*



*



Johnny knew that his father was home; he quickly yet quietly gathered his most appropriate items, one of them being his scout uniform, and he crept down the steps. The door made a creaking noise every time it was swung open, so he used the dinning room window on the main level. The broken glass and puddles had not been picked up, so he was very careful to step against the wall to avoid making any echoing noise. Johnny knew that running away would break his mother's heart and she would be looking for him the very moment she saw he was not in bed, but he couldn't stand to be in the presence of his father at this point. It was only going to be for a while, he would come back once his emotions had the chance to cool off. He was aware that things were most likely not going to change, but a boy can have hopes and dreams no matter how unrealistic they are, it is theirs and no one can tell them otherwise.

Johnny knew of only one place he could be alone. He had the skills and all the materials he would need to survive for up to three weeks. The bush was so quiet at night and you could see the stars shinning. Johnny loved the stars. No matter what was wrong in your life, they were always there to show you that you're not alone and it would always put a smile on his face. As long as the stars were out, Johnny would be all right. Once he found a decent clearing, he set up camp and made a small but sufficient fire. It was so unexpected, but he started to cry. Acid tears started rolling down his face slowly while he was thinking of all the things that had been wrong with his life to that point in time. None of those things were going to help him, but the two things that he had filled the whole in his heart would help him survive. During his past six years of cubs and his first year of scouts, Johnny learnt what he had to do in a survival situation and this experience because it gave him strength and speed; both of these qualities were necessary if something were to go wrong. When you are by yourself, you rely purely but confidently on your instincts, and this was exactly what Johnny was going to do without the disappointment or embarrassment of his alcoholic father.
*


*



*


John was lying in bed for several hours just staring at the roof until he fell asleep. He couldn't help but feel stupid for what he had just done. It might have been the alcohol talking but he confessed to his guilt, which is always a hard thing to do, but somehow managed to shed a puddle of tears on his feather-stuffed pillow. It was not everyday John would cry. He loved his family, there was no question about that, but he was bit a man who knew how to express his love so no matter what he said to his wife and children, there was a good chance they would take it offensively. He couldn't blame them. In a way, that night was a revelation for John. Even though he has tried to give up drinking before, it had only last about five days, but this had to be different. He wanted his son to love him and remember him if he were to pass on. No matter what, this would be different. It would.

The next morning John woke up with a massive headache. It was almost like someone had played the game of "Charlie Horse" with his skull the previous night. He rose from the position he had taken on the couch, and headed for the stairs. He stopped at the bottom step with his on the railing and his lead foot on the first step. Was it going to be a mistake going upstairs? What was his son going to say to him, if he said anything at all? Was his family still there? These questions had trampled his thoughts throughout his dreams. Or that could have been the headache, but either way he knew it would be different now. Nothing would ever feel the same again. He slowly made his way up the stairs, one by one. Keeping in mind the questions that would determine his future. John sighed, and then climbed the final step, swaying with his emotions.

The sun was shining through the paper-thin curtains that were hung in the window. It had looked like a glorious day. John looked down to see the broken bottles and stained liquid on the Italian-tiled floor. This did not cause anger to build within him. Only a spark was lit, and it was soon go out. It did not bother him however that there was about 200.00$ worth of alcohol going to waste on the floor. There was nothing he could do now; he just stood there in "Aw" that his ten-year-old son could do this. He merely shook his head in a understanding and started for the room he and his wife shared. Opening the door slowly so as if not to wake her, the bed was made and no one was in sight. He did the same for his daughter's room, and once again no one was there. John then walked over to his son's room, but halted completely before opening the door. Looking at the shoes on his feet he had worn the night before, he opened the door. With no surprise, his son was not there, but there was a note. He quickly stampeded over and picked up the crumpled the note that had been left on the bed. It read,

I hate you! You never care about me of this family! Why are you still here! Leave us alone! I['m not coming back, not while your still there! You ruined the one thing I had to myself. The thing that had gotten me away from you for so many years! Why do you think Joanne dances 5 days a week! Why do you think mom takes nights courses every month! You've broken this family and you don't even care! I'm never coming back! NEVER!

A tear rolled down John's face. It was true, he really broken his family and he never really cared. Why had it been that way for so many years, why had he let himself destroy his family the way he had? There was no answer because he had to fix the problem, and he had to do it alone.



*


*



*

Two weeks had passed since the night Johnny left. He was doing quite well in fact. He had hidden from search parties several times. Last week, he went into town to wash up, and he had come across flyers everywhere he went. He knew his mother and sister was looking for him, and it hurt him deeply t continue causing them pain, but he just could be around his father. He came to a conclusion the he would write his mother a note and leave it on the doorstep later that night, just to assure them of his safety. He could not stay in town to long so he hurried to the public pool and took his long awaited shower. It somehow relieved some of his stress. The warm water pounded on his chest and back, running freely down his battered soft body. It almost as if his mother holding him like when he was younger toddler without any knowledge of his surroundings. It was a tremendous feeling, too bad it had to end quickly.

Johnny hurried back to his shelter after writing his note. It was in his pocket and he had his hand covering it as if it had been something of great value. Thus was understandable seeing as he only brought one thing of value with him when he left home. The night when Johnny ran away, he made a quick stop at the church where the scout meeting and been to get his mask. The doors were looked but since he was good acquaintances with the priest, he knew a back way to get in whenever he needed to. This was a very generous gesture and since the priest was sworn to secrecy, no one ever knew. Johnny had not let the mask out of his sights since. The mask was carved and detailed to show the personality of each family member of the Purcell's. Each person had his or her own color of lines reflecting their mood and view of life. Johnny's mother had the color violet to represent her warm heart and sensitivity. Her lines were very delicate. His sister was lime green to represent her fun personality and desire of living life to its fullest. Her lines were quiet exquisite and unique, never keeping the same pattern. Johnny's color was orange to represent his maturity and strength. His lines were very bold and stood out of the mask. John's color was gray. He was represented as someone who was hardly there to see his family flow like one. His lines were separated from everyone else's but crossed each person's path at least once creating the color black.
*


*



*

John had hardly spoken to his wife since Johnny's scout meeting. Her eyes were constantly filled with pain and hatred. After all, her husband was the reason her son had left in the first place. It wouldn't be a surprise if she packed up and left tomorrow, bringing her daughter of course. John had been thinking that maybe the only reason she had stayed was because she had noticed that he wasn't drinking anymore. He had replaced his addiction to alcohol with coffee. It was hard to quit like that, so something strong had to replace the cravings. He was making progress, and that was the important thing. That night John went outside to just leave his wife and daughter alone so that they could talk and do what they wished. They had been looking for Johnny all day, and the next morning they were all going to go down to the news station and the radio to broadcast the disappearance of their son. They were desperate to find him. His wife had been crying every time she saw a piece of his clothing of the family picture that sat on the piano in the living room. This had truly scared her for life and if she were ever to find her son alive, she would do everything within her power to give him the ideal life, her daughter as well. John sat on the porch with his head in his hands in his hands, all the feelings that showed him this night two weeks ago. He began to cry. He kicked the plant that sat at the bottom on the steps; something hard fell to the ground. It had sounded like glass. John had walked over to the toppled dirt, and picked up the bottle of vodka. He had only just remembered that he had hidden the bottle just over a month ago because his wife had kicked him out for the night, With all his depression and heart-broken emotions running through him, he couldn't help but take just a single sip. Then he pulled the bottle away from his mouth and set it down in front of him. But this was an act of temptation, for he once again picked up the bottle and took another sip, only bigger. This happened several times until there was only but a drop of fluid left in the bottle. John began to cry again. Once again he had failed. There was no way he could go back inside the way he was. He knew in a matter of minutes he could be fully drunk, so he left the house and headed for the bush to avoid all harm.
*


*



*


Johnny was gathering sticks for his fire when he heard yelling voices. He waited for another and then dashed into a bush to avoid being seen. He wasn't sure if it was a search party or a wild animal, but either way, he needed to stay hidden. They voice yelled again. He couldn't make out what was being said but it was defiantly human. As it got closer to Johnny, he started to shake and think of what it could be. The thoughts frightened him. He was hoping it was not a poacher that could mistake his for a deer. He could not understand what was being said now; it was surely a search party calling his name into the empty darkness hoping that reply will come forth, but why was there only one voice. There surely had to be more than one person. His heart was beating extremely quickly by this point. The words were now a minimum of twenty feet in front of the bush now, and Johnny was positive that it was his father, dr7unk again. BANG. Something had taken a hard fall the pounded dirt. Johnny's name had stopped instantly.

Johnny rushed over to his father. He had passed out, But when Johnny checked his heartbeat, it was very slowly which meant his could die. Remembering his father carried a cell phone; he searched through each pocket looking for the thing with would sane his father life. Once he found it he a dialed 911. He stared explaining the emergency and where they were located, although that was hard to explain, Johnny managed thanks to his orientation badge. "Hurry! Please! I need my dad to be here for me!"
He kneeled next to his father and stared to perform CPR. He did this for 10 minutes until he stared to hear voices in the distance and lights searching ahead of them. Johnny stared to yell and wave his arms as if he stranded on a desert island attempting to get the attention of an overhead plane. It worked, someone spotted his and ruches over with the others following. Then something hit Johnny, he had saved his father's life, but he couldn't understand why. He hated his father, but maybe he did love him inside and the badge his father just awarded him only a few weeks ago was the reason this happened. He loved his father, and it took a near death experience to show him. He started to cry and one of the medics took him to the ambulance. On the way Johnny quickly grabbed his backpack for it was important.
*


*



*

When John woke up he couldn't remember a thing. All he could see was that he was in a hospital with his family asleep by his side. Johnny then woke up to find his father conscious. He was extremely relieved and pushed out his chair to hug him while crying. His wife and daughter then woke up and did the same.
"Dad I'm sorry, I didn't mean to say those things. Especially the note, it's not true. I love you I'm sorry, if it weren't for me you wouldn't be in coma. I'm so sorry dad. I want you to have this. It's the mask I carved for scouts. Each line represents a member of the family." John took the mask with aw in his face. He was stunned at the work his son had done to a block of wood. It made his realize how much he had grown up, and he had never looked hard enough to see it. He was honored that his son has given him this representation of life and humanity. The mask was one thing Johnny had to have with him all the time. His family was the most important thing in his life, and he was so deeply sorry that he had hurt them with his actions. He did not mean for it to be that way, but now things were different. He truly loved his father and he knew that he was a new man. To celebrate this act, he painted over the gray line with red to represent a true man. A man of courage and honesty, but most importantly, the man he would grow up to be. Johnny's tears were now creating wet stain on the father's chest. "Don't be so... Sorry. It's my fault. I ruined your lives, and I'm sorry. Especially to you Johnny. I'm so sorry I did that to you. I know that I have never been a father to you or your sister, but I promise I'm going to change. No more alcohol. I promise son. Please forgive me Johnny, please give me another chance. I won't disappoint you." These words were deeply heart-felt and everything that was said was the truth because from that moment on, John truly had changed. He was a new man, and more importantly, a father.




*20 Years Later*
Johnny has become a man, a husband and a father. His dream had come true. He was, the ideal man and men took care of themselves but always put their families first. It was Thanksgiving dinner. Everyone was gathered at John's home for a celebration of thanks. The meal was hot and delightfully tasty. There were smiles from ear to ear all around the table. Johnny's sister had gotten married and had 3 adorable children. Johnny had joined the military for several years and had married before leaving. He now had 2 beautiful girls to care for and with all his heart. His pride was always there while he fought for his country as a Air Force pilot and was now a well-known engineer. Everything was as it should be.
When dinner was over, John had promise to read his grand children a story, but he had forgotten his reading glasses. Now being the age of 78, it was hard to move around a lot so Johnny willing climbed the stairs to get them. He has remembered everything that had happened over the years in that house. The scared memories in his mind were on every wall, the scratches on every door but every memory had an ending and it lead to the life he had now, and that was nothing to regret. The reading glasses were no one the counter, so Johnny looked through a few of the draws until he opened the bedside table. He stood eyes wide and face in a paralyzed position of amazement. There it was. He couldn't believe he had kept it next to him all these years. The mask had been there all along.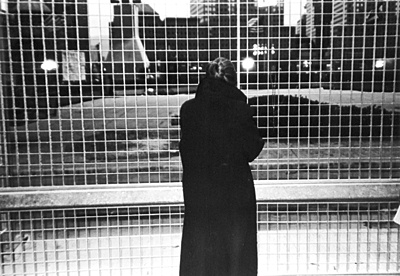 © Morgan H., Marblehead, MA