Olympian
October 30, 2017
I became a foil fencer because this is my passion and a big part of my life. Fencing demands focus, strategy, tactics and forethought. It disciplines me to achieve success in sports and also spills over into all other aspects of my life. I train daily with my coach to learn and perfect movements, which would help me best my opponents on the strip. I train until my hand and whole arm up to the shoulder feels numb. The sensation is like tiny pins and needles marching up my forearm and elbow. When I regain sensation in my arm it feels like my arm is on fire. I practice through the pain to make me stronger and enhance my endurance at competitions. We discuss strategy daily. Do I parry early or should I feint disengage and beat attack my opponent's sword to score the touch? Then finally travels and travails to distant spots in the U.S from my home, which seemed almost like foreign lands to me if it were not for the signs in English and prices in dollars. Places such as Louisville, Kentucky, home of the Kentucky Derby with its penchant for horses; Memphis, Tennessee, home of Elvis Presley and where Martin Luther King was shot; Seattle, Washington,  home of the Space Needle, Puget Sound and a city surrounded by forest and mountains; San José, California with its sunkist streets; Chandler, Arizona, a desert paradise with its weird coldness in the morning and unbearable heat by midday. Many times I am forced to fence with little to no sleep because my flight is cancelled or delayed. A particularly poignant instance is forever etched in my mind. We were to fly out of JFK but because of inclement weather conditions my flight was delayed and ultimately cancelled. I absolutely had to be in Columbus, Ohio. My father argued with the Delta Airlines operator and was able to secure tickets for our flight from Bradley Airport, a civilian and  military airport in Connecticut. We had to drive all night long to get there. My poor little sister who was nine at the time clutched her build-a-bear but had a hard time falling asleep in our SUV. There were no flights available from any NY or NJ airports until after the competition finished.
         We slept sitting up in the car waiting for the boarding time of the flight at 5:00 am. We arrived at 6:30am in Ohio and I rushed to the venue without warming up or having any practice bouts. I was able to secure 6th place out of 160 people who were rated as some of the best fencers in the U.S Junior category (over age 17 years) before collapsing into a steaming fencing blurry-eyed mess on my bed at our hotel room. I forced myself to get up and take a shower, savoring the time like it was Heaven, until I fell asleep standing up and I was jarred awake by a knock at the bathroom door. It felt like a thunderclap. It was my Mom-my stand-in coach when my fencing coach was unavailable- reminding me that I had to study for an algebra test on returning to school on Monday. The stress of trying to be a successful student athlete fencer  is like being a navy S.E.A.L. but without the killing, cold water, or terrorist engagement. It is constant combat training and successful completion of constant combat missions. It pushes people to go beyond their comfort zone physically and mentally. Fencing forces one to think literally on their feet and make split second decisions which can grant victory or agonizing tear filled defeat in an instant. It challenges each athlete to think quickly and apply analytical skills to outsmart the opponent. It is  a sport that requires power, flexibility and speed. It is these qualities that drive my fellow athletes and myself to ever escalating feats of precision acrobatics and almost sniper like point control touches. The intensifying feelings along with the restraining 30 pounds of protective gear and a bulky mask does not prevent me from jumping like a praying mantis on the strip to score a near impossible touch on my opponent's helmet bib. The touch scored is so intense I have to yell to release my chi like the kung Fu masters in the movies.
         I realize that to be an Olympian fencer I had to transcend even these nigh impossible physical and mental boundaries. I needed to excel even more in the sport of physical chess.  I attended courses taught by Olympian foil fencers Lee Kiefer and Nicole Ross and I asked them, "What does it take to achieve your level?" Lee answered, "Drive and the belief in yourself and never giving up." Nicole Ross voiced, "Dismiss all self doubt, leave it at the door, and fence as though your life depended on it!"
         I took their advice and applied this to my fencing and this spilled over into all aspects of my life. Fencing tests both my mind and body. The discipline required by this sport makes me be a better and more humble person to my family and friends. It make me realize that I have a lot to learn in both the sport, my school studies, and the world but it leaves me feeling optimistic and almost heroic.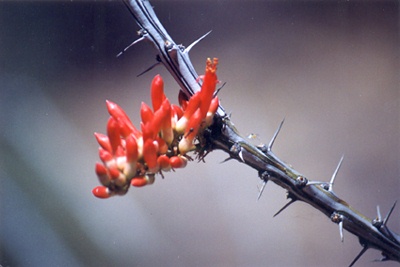 © Andy G., Phoenix, AZ