Missing You, Friend
March 7, 2009
Hey Sarah. I can't believe it's been an entire year since you died.It's been a whole year and i am still in denial. I stand on this rock just waiting...waiting for you to run down shore with your flowery surf board in your right arm.To think of it, you had the matching swimsuit. You loved that board Sarah, and I'm sure it loved you back. Remember when i borrowed it and almost drowned? You jumped in and save my pathetic self. That was funny. It was really I'm still laughing. Come to think of it i never told you how thankful I am. Guess I can tell you now thanks now, ha ha.

***

It's funny how you really start to reminisce on the small memories when you miss someone.Remember that time Shirley Davis made fun of me cause i wore an Sesame Street shirt in fourth grade. You set him straight once you saw me crying. I never will forget how he balled up and cried. Remember that time we took your dad's car to go shopping? We couldn't get the car out of reverse so we kept going in circles sending people dashing all over the street. I took full responsibility cause your dad was going to have you kicked off volleyball. We had each others backs then. I wish I had you and Tracy's back that night...I knew she was above the influence, but I allowed her to drive my car.Forgive me Sarah as tears fall, it's just extremely hard to say goodbye to a friend of 13 years. I just can't...I refuse.

***


I come to this rock every day now. Your favorite place , a vacation of struggles of life. We shared secrets here,sang songs,danced, hung out. we used to surf the waves together and just have fun.Call me crazy but I can hear your voice through the ocean. Your still alive in my heart and memories, this ocean just brings you more alive.

***

Your brother misses you deeply. He comes in our closet and hugs your clothes. he sleeps with your favorite bear...what was it's name? Mr. teddy. Your parents sleep with your pillow, they haven't washed it since you last lay on it.They are taking it hard. I know you would want to let them know your are in a better place and your still there...in there hearts. Sarah as I leave this rock today, i don't say goodbye...i say see you again. i know we will meet again. Until then, rest in peace my friend. we Miss You And we love you sarah.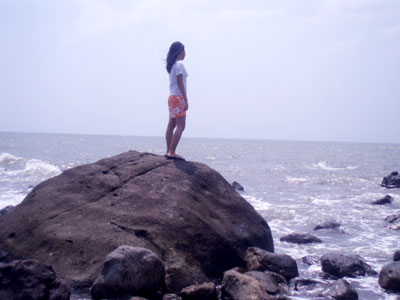 © Grace L., Bacolod City, Philippines