The Wish
October 25, 2017
Growing up has always been a struggle living in poverty.Mom and Dad does their best to provide for me and my brother.Mother is a beautiful  lady who came from a rich family but married into my father's family which was poor so her whole family turn their back on her.Working at the grocery store putting her sweat and tears doing over time and still she doesn't get payed enough .Dad works at the coal mine since he was 15 helping out for the family.He gets payed way better than Ma but it's not enough for the family living expenses.The condition is horriable.My little brother is a good boy staying out of trouble.We worried about his future since boys around here are mostly engaged in gang.
It's a Monday morning father has already left for work.Which is normal.Me,mom,and Iodine eat our breakfast slowly in the small kitchen.It's usually quite in the morning,no sound heard from anyone but the sound of the microwave heating up mother's coffee again.
By 7:00 me and Iodine are out the house making our way to school .The walk is about 15 minute.we see homelessness everywhere,houses that has been abandoned,the smell of weed is so strong it stinks my lung.I keep Iodine close by me the fear of losing him has been a nightmare.This town is full of lost dreams and nightmare.No hope of a better brighter future.Iodine grabs the end of my coat when he sees two mans fighting.I have had it since 8th grade year.It's greeny old,and kinda torn,but it gives me warmth,also it helps mom and dad save there money.
September 24 it's windy outside.The clock is about to tick 12:00 for lunch,I  should be excited but I keep on feeling like something is wrong.
The dean walks in whisper something into my teacher's ear he looks at me with pity.I felt like something was wrong,my stomach felt bubbly the feeling of guilt and anxiousness.
I was sent to the office later.Walking in all the eyes were on me.The counselor gave me the phone and said my mother called.

"hello," I said through the phone.

"Hasley..baby, " my mother said over the phone it sounded like she has been crying.
"pick up Iodine after school," she says I knew something was wrong mom usually picks up Iodine.
"what's wrong mother," I ask.
"your...your..,"she broke down crying before she finished telling me.
"your..um..your father his injured they don't know if he'll survive,"Her voice cracked after,I wanted to cry too but I have to be strong for mother.
Couple months past father has recovered but were still struggling to pay off the medical bill since it's so expensive.
It's 12:00 pm mom and dad has gone to the landlord to ask if they can get more time to pay off the rent.This is a struggle we always face.Since we don't have the money.
It's Iodine's birthday,mother counts up all her saving,a group for laundry,food,and rent there's barely enough money to buy him a cake.His sad I know it but  mom can't do anything about it.She's the only one working since  father's health isn't stable after the incident.But thankfully I found a job close by our apartment.
Finished my first shift today.I can help out even more around the house.Mother,father,and Iodine were so proud of me.One day will live without worries and be happy.But for now will work hard to be able to live the prosperous life.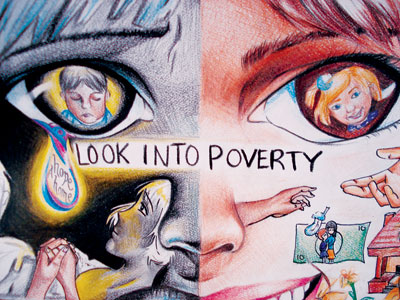 © Shirley L., Chino Hills, CA