The Name That Wasn't Called
November 7, 2017

I woke up like any normal person does in Virginia, in my warm and cozy bed. I got up, ate my breakfast, and got dressed. But today wasn't a normal day. Today was going to be a day full of anxiousness and suspense. Today was the day I would hop on a plane to the NFL draft and get a contract to be a quarterback for an NFL team. This has been my dream ever since I was little. This day would not only be special for me, but just as special and important for my mom. Growing up we weren't the wealthiest. The NFL would be our way to a better life. I wasn't the most athletic at first, but my mom always kept her faith in me. And it was a good idea to do so because sooner or later I would be hitting the field with an NFL team, and all my hard work that I have put in throughout these years would be worth it.

And there I was, sitting there, waiting for what felt like an eternity. My legs were shaking nervously without control, up and down, up and down. Little beads of sweat dripped down my back. I had a little voice in the back of my head, assuring me that they would say my name and I would get to shake Roger Goodell's hand. I was looking forward to getting an NFL hat and jersey if they called my name. I also knew if they did happen to call my name, it would probably make me the happiest person on the planet. So I waited anxiously, hoping and praying that they would call my name. Then the draft finally started. The Cleveland Browns were on the clock. This organization had contacted me months earlier, saying they loved my strong arm and my mobility. They told me they would keep my name in the back of their head for the draft. Could I be the number one overall pick in the 2018 draft? Would they surprise me by picking me first for the draft? Then all of a sudden, Roger Goodell walks to the podium at a leisurely pace. Although it took about ten seconds for him to get to the podium, in my mind it felt as if it was ten years.

Roger Goodell pulled the microphone towards his mouth and said, "And with the number one pick in the 2018 draft, the Cleveland Browns select Elijah Gray, running back, LSU." I was upset, but not shocked because I knew I was good, just not good enough to be picked first. I kept my head up and waited for the next team, the Los Angeles Chargers, to make their pick. It was the same routine for Roger, he put the microphone and in a calm voice, Roger Goodell said,

" with the second overall pick in the 2018 draft, The Los Angeles Chargers select Emil Radoncic, Quarterback, Ohio State." And then the third pick went, and the fourth, and the fifth. And then all of a sudden as I was waiting there for my name, I realized it was the last pick of the draft. I didn't want to hear that name, because I believed that it wasn't mine. In my head all I was thinking was that all my hard work was for nothing. And so that last name was called and it wasn't me, in fact it was Jachi Harper, defensive end from Mississippi state. Even though they hadn't called my name, deep down I knew all my hard work wasn't for nothing. I had hope that sooner or later, all the effort I put into football would pay off.

Three days later, there I was, watching the NFL Network on my small cable television. I saw all these drafted players on the screen and all I thought was why couldn't they call my name. I'm not gonna lie, I was pretty jealous watching those rookies with their new jerseys and NFL hats when I heard my phone ring. It was a new number that I hadn't recognized before, so I casually picked up the phone, and said "Hey, what's up, it's Jordy". The next sentence that came out from the other line would be a sentence I would never forget for the rest of my life.

And this man said, " Hello Jordy, it's me, Todd Bowles. I'm calling you to see if you would like to come to some of our practices and see if you could fill a much needed spot on our roster. I was very impressed with your agility, arm power, poise, and skills of reading defense. What do you say?".

I started to tear up. This was the best day of my life. I wiped my tears away and cleared my voice. I was ready to make the easiest decision of my life. I put the phone back against my ear and said, " Absolutely coach, this is an amazing opportunity. I won't let you down. I'll make you proud."

Coach Bowles responded with in a cheerful voice and said, "Haha, I'm sure you will son, I guess I'll see you monday for our first practice. See you soon Jordy!". I wanted to respond back to him, but he hung up before I got the chance. I wasn't mad because I knew at this very moment a new journey had just begun.

So there I was, a boy from Virginia, and now in New York at the New York Jets training facility. I met with the coaches and the players. The coaches and me got along just fine, but it was a different story for the players. Since I was from Virginia, which is in the south, it was hard for my players and I to get along at first. We had many differences between each other. We talked differently, had different perspectives, and even ate different types of food. Sometimes they would laugh at me because I was different than everyone else. I felt as if I was an outsider on team due to my southern culture. I was alone. No one on the team really came from the south, so I had no one to help me with this cultural conflict. This made me a little upset because I knew that getting along with my teammates would play a key role in us succeeding and winning all our games. I realized that having friends were also necessary for communication. Especially with the wide receivers and myself, because those are the people I would be throwing to and scoring a majority of my touchdowns with. The only way I could get touchdowns would be by running into the endzone by myself. I knew it would be hard to win my teammates over, but as soon as I got onto the field with them, I hoped that they would see a reason to like me.

So the first practice of my career had finally come. I was extremely excited to exercise and practice with my team. The first drill we ran was a deep ball drill. I knew I could impress both the coaches and my teammates with this drill. First up was the veteran quarterback, Josh McCown. I wasn't surprised that he was chosen first since he has been playing in the league for at least 10 years. He threw a thirty yard fly route to Jermaine Kearse. It was a really good throw, but I knew I could do better. I knew that this next throw would impact coach Bowles view of me as a player. As my nerves started to kick in and sweat began to drip down my back and through my newly aquired New York Jets apparel, I felt ready to show my team why I should be the number one quarterback on this team. I walked up to the thirty yard line with Robby Anderson. He was an extremely fast wide receiver and was on my right side. This made it easier for me to throw to him since I was right handed. I took a deep breath, calmed down my nerves, and called my cadens.

"Green 25, green 25, green 25 set go!", I yelled at the top of my lungs. I yelled those cadens proudly. I took a three step drop, looked at Robby for a good second or two, and released the ball. This ball was the most beautiful ball I have ever thrown. It spun what felt like hundreds of times in a perfect spiralling motion. And then the ball fell gracefully in the hands of Robby Anderson. This was about a 60 yard pass. The coaches were stunned to see that kind of arm strength on such a young player. At this very moment, everyone wanted to be my best friend.

The very next day I felt outstanding. I had an amazing performance in my very first NFL practice and even out-performed the veteran Josh McCown. I woke up with a smile, hopped out of bed, made myself some bacon and pancakes, and got ready for my second practice.

I got to practice and was surprised by a joyful greeting from all of my players. I was now a favored player in the locker room after my performance the day prior. There was only one person who wasn't so happy to see me, Josh McCown. He was the only person not pleased with my performance from yesterday because he didn't want me to become the starting quarterback and take his playing time. Josh came up to me with a stern voice and said, "What's up rookie, hope you don't get nervous for your second day".

I knew he was trying to get into my head, so I simply brushed his rude comment off and responded by saying, " I think I'll be fine, thanks for the concern though." I knew that response would get under his skin. Josh looked at my with an infuriated face and walked away. This competition would be one of the hardest challenges that I would have to face and overcome, but I knew I could become the starting quarterback. I knew I could make my mom proud and that all my hard work would have payed off.

The first drill practice was a seven on seven drill, so Josh McCown and I would be facing off. I knew coach Bowles chose this as the first drill because he wanted to choose a starting quarterback to get them ready for our first game. It was my chance to achieve my goal ever since I was just a little boy living in that small town in Virginia. I was on offense first. I knew I could beat him in this drill during this drive. I just had to believe in myself. I had the ball on the 25 yard line. I got ready to call my cadens. I took a deep breath, whipped the sweat off of my forehead, and began. "Green 80, green 80, green 80 set go!" I took my usual three step drop back and remanded calm. I saw that the corner route on my back side would get open due to their coverage, so I threw a touch pass right to him. It was a 37 yard gain. But that wasn't my only completion. Infact, I completed every ball and scored in just four plays. Coach Bowles saw the potential that I had, so he came up to me and said, "This is your team now, Jordy". I knew that I would never be able to forget this moment in my life which was filled with complete joy and happiness. This was not only for me, but for my number one supporter, my mom who had always believed in me and never gave up. I knew from now on that my name would always be called.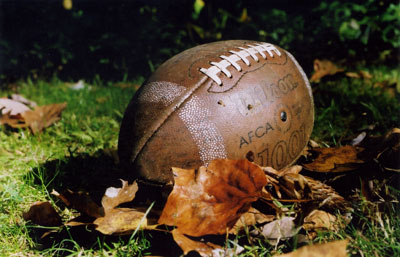 © Michael L., Bethesda, MD