All Because You Passed By Me
October 16, 2017

I see you ahead, almost passing by me. Towering above me, you stand tall and confident. Earbuds in, I'm surprised you couldn't hear my heart pounding deep in my stomach. Your books are held tightly to your chest, your fingers fidgeting making it look like your mind is scattered.

A million thoughts are racing through my head, Should I flash a smile? Wave and say hi? Wait, should I just put my head down?

Through all this confusion, I broke the peace of a stationed backpack sitting quietly on the floor. My body slammed on the ground before I could finish my last thought. You could barely hear the tearing of my skin getting caught on the ridged floor over the sound of my conscience screaming from embarrassment. People scattered around me; I sense their eyes on me. Don't make eye contact.

My eyes shift slightly up; you knelt next to me. Our eyes connect and my whole world pauses; everything goes mute. You seem apprehensive waiting for me to say something. I wouldn't let any words escape my mouth, afraid I would ruin this exaggerated feeling that is forming a natural high within me.

My eyes swifty glaze over as I catch a glimps of your charming, intriguing smile. Who knew falling could be so good? My thoughts racing over themselves. The hallway cleared, and you take a long deep breath extending a nervous clammy hand. Locked into your crystal blue eyes everything else freezes.

Your eyebrows raise as you speak. "Are you okay?" you muttered trying not break the powerful connection we are both feeling.

I flashed a smile, took your hand and stood up.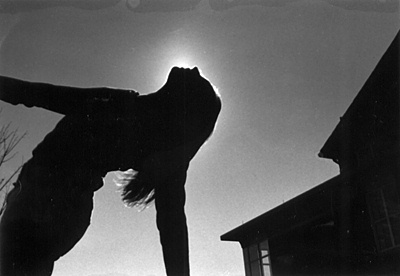 © Alexandra B., Marblehead, MA