Accident on Stage
October 24, 2017
Get Ready!! Ok. Now jump, step, leap. I thought to myself as I glided across the stage like a delicate butterfly. Feeling nervous and anxious about my dance, the auditorium of De Anza College spun around me. The cold gray floor was smooth and sticky. The curtains fell down on the sides, floating just above the stage. They cut off the view of the audience from everything that was going on behind the scene, where organized chaos happened, going with the flow of the annual recital. I was the "star" of my second dance, A Necessary End. Even though it didn't have the hardest choreography, I still felt the most pressure as I was the leader of the group and I had to hold this dance together.
A trickle of sweat dropped down the back of my neck. My heart was pounding inside my throat. Steady now. Split jump and step! Wave the ribbon and turn. Now careful, I need to perfect this move! As my dance was about to finish, the hardest move was approaching, 4 turns vertically, like a tire rolling. Our performance had 5 people as a small group, with a ribbon as our prop. As we all backed up for our next step, I remembered to not trip over my ribbon and make sure that this move didn't fail. I knew that one miniscule mistake could mean the ribbon tangled around me, and in front of everybody watching!!! I flawlessly performed the move, but as I jumped out of the turns, I stumbled a bit and almost tripped over my ribbon. I jumped and stepped off stage for the final part of dance, but my foot was throbbing with pain, as if a hot nail had been driven into it.
My face scrunched up in pain as I stepped on stage, walking slowly backwards and towards the middle. At last, I completed my final moves, which were mercifully simple, and fell down for the last pose, lying down on the floor. Since A Necessary End was a sorrowful dance, talking about the split of two people, it was easy to mask the agony my left foot was causing me. We all got up and walked offstage when the lights turned off, and the room, once caked with light, now turned as dark as the night outside.
"Is it okay?" I asked, worried about the final performance. Turns out, I had sprained my left foot and it hurt when I moved or put pressure on it. I really didn't want to let everyone down and I decided that I would do whatever I could to the maximum point. I pulled off the itchy costume full of sequins and changed into my costume, rushed. My mom hurriedly put on my headpiece and pinned it down securely. I limped out side and got ready on the side of the stage. My teachers, Kitty and Heidi, were telling me to not do the aerial, a cartwheel without using my hands, in my final dance. As the music started, I winced and performed my moves.
The part of the aerial finally came to. I was thinking throughout the whole dance about the aerial, deciding if I should try or not. Finally I decided. I would not let anyone down, especially myself. I WILL do the aerial. I believe I can. Push through the pain. Come on Alicia!! I thought with a determined face as I stepped through the curtains and onto the bright lights of the stage. I ran, jumped, then flipped, landing with a great big smile on my face. That day, I realized that by pushing past my limits, I would learn and achieve much more. I just had to believe in myself and not let others tell me that I could do anything less than I was capable of.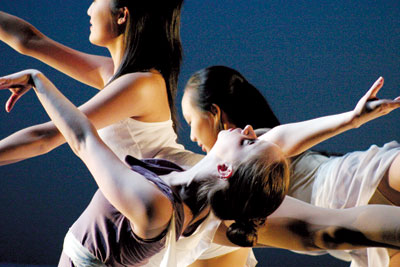 © Josiah T., Allen, TX