Deep Water
October 23, 2017
The world is shattering around me, yet the abundance of water that surrounds my fragile body embraces me like an old friend, and promises to keep me safe.
I look to my right and see the smiles blooming on my brother's faces as their hands fracture the thin sheen of water sending glistening droplets in all directions.
The broken world around us seems to evaporate, leaving only the pool, twelve feet deep and seven feet across.
I put my head under the surface, and I feel the crushing pressure of the darkness surround me. There is peace in the darkness of the abyss that seems to emerge through the rays of refracted light that try to pry their ways into my closed eyes. I stay in the peace till I can no longer ignore my lungs' screams.
When I finally surface I remember where I am.
The world has again materialized around me. I see that the pool, that once embraced me, is only a pool. A bacteria infested puddle of water, that my brothers and I bath in. As a survey my surroundings, I notice the rusty, flaking metal protruding from the ground, and the skin from an animal, long dead, falling away from it's arched, splintered spine. The buildings nearby are crumbling away into dust, and the piercing cries of families with nowhere to go fill the atmosphere.
I ignore the desperation for a second, and again hear the sound of my brothers' joyful shrieks. Their laughter brings me back to the feeling of peace I experienced under the water. I stop and think for a second about the pool, and how something so small, and so simple can bring my brothers and I nothing but bliss. If a single shining drop of water in a whole ocean of droplets can put a smile on someone's face, maybe the world is not so broken.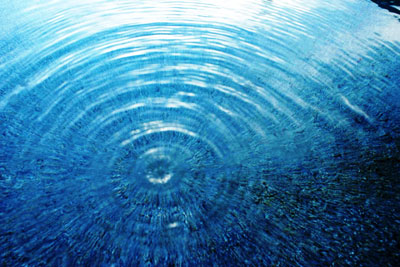 © Sadra L., Buckeye, AZ