The Worst Day Of My Life
October 23, 2017
"Are we there yet?", I asked from the backseat of the car, for probably the hundredth time. We were headed to six flags, my favorite amusement park, and it was my first time going there. I was headed there with my family: my brother, mom, dad, and myself. I was ecstatic, but had no idea what was in store for me.
My visit started out like any other, we ate lunch, went on a few rides and then took a short break. After this break, we headed towards my favorite ride of all time, The Goliath. I was so hyped that we were finally going there that I frantically ran in front of my whole family, trying to get a good spot in line. Surprisingly, I got first in line, and I turned around and waited for my family. Seconds turned into minutes, and it felt like minutes turned into hours. Eventually, I had to get out of line. I turned around, looked to see if they were there, and then looked back at the line. "Oh shoot.", I muttered, I was at the wrong ride. The sign read 'The Viper', not 'Goliath'.
    Desperately, I ran around the park, looking for the ride, but had no luck. And it didn't help that I had to go to the restroom. Even though I had been lost for barely a few minutes, it felt like hours had passed. Eventually, I found the ride that I was looking for, but my family was nowhere in sight. I pulled out my phone, attempted to call my dad, but had no luck. I sat there for about 5 minutes calling my dad over and over again, but it went straight to voicemail every single time. Soon after, I met up with someone who worked at the park, and he tried to call my parents as well. My stomach was groaning, and I was really hungry, but I couldn't get anything.
        After about 30 minutes or so of roaming around the park, I decided to stay at one spot and wait for my parents there. This was a very boring process, so I slowly started going on rides with short lines to entertain myself. Even though staying in one spot was a good idea, it was a very deceiving task. Many people were wearing the same color clothes as my dad and were around as tall as them. I ran after the wrong person about a dozen times thinking that it was my dad. Going in my mind over and over was the constant thought "What if my parents are waiting in one spot as well waiting for me to come? If they are, then we will never meet."
        It was at this point that I couldn't hold it in any longer, I sprinted to the restroom, hoping that the stalls were not occupied, but sure enough, they were. I waited outside the restroom, just in case my family passed by while I was waiting. When the previous occupant finally left, I went into the stall, tried to finish as fast as I could, and on the way out, I saw my family (well, just my dad and brother) walk in the door. I was so excited to finally see them, and I knew that I wasted a lot of their time, so I apologized for running in front of them.
      On the way to our first ride together in a few hours, we talked about some stuff about safety and what to do if I ever got lost. Honestly, I thought that I would get in a lot more trouble than I actually did. If there is one thing that I will always remember, it is to stay with my family at all times.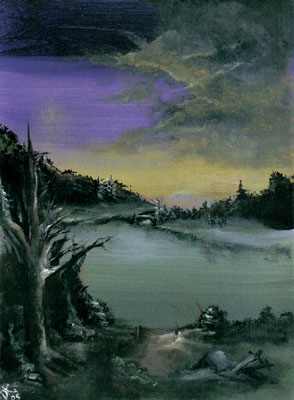 © David K., Birkenhead, UK