So Different From the Last
March 26, 2009
She got the call late at night; the room's shadows had already overtaken the empty space of their studio apartment and devoured his unpacked boxes still left from weeks before. Julianne's voice crackled softly over the receiver that hung heavy in her hand.

"Sweetie, he was here again tonight. He…he left you a note. But, honey, um…he said he wasn't coming home. I'm so sorry, Nadia. Maybe you should come over."
Subconsciously she knew that it would happen, knew the choice would have to be made. That explained why her body wasn't shaking, why her heart only galloped to a slightly faster pace. Why this time was so different from the last.
"Yeah, I'll be right over."
The night air lapped lightly at her face as she came to the café's entrance. The 24-hour neon sign blinked blindingly, illuminating the city's deserted streets. When she pulled the glass door open, she glimpsed Julianne slipping quietly into the back room, coffee pot in hand.
The note sat ominously on the corner of the counter. Sides tightly folded down and her name scrawled anxiously in the center of the crisp sketchpad paper. She could imagine him writing it, his hand tightly gripping his charcoal pencil while he fluently placed each devastating word. Like an artist drawing the end of the world. She saw him folding the thick paper just right, his broad flat thumb nail gliding firmly over the edges to lock in the words he wrote.
Her fingers lightly brushed the paper's surface, loose charcoal rubbing off on her ivory hand. Perhaps she could just forget about the note. Maybe accidentally drop it one of the coffee pots that adorned the small midnight café. She could dissolve the truth he told and the choices he wanted her to make. She could forget about the pressure, forget about him.
Her heart lurched; an empty hole replaced her lungs as she slumped into one of stools beneath the counter. No, she could never forget. She knew him too well. She knew him better than anyone. She'd memorized the way his eyebrow arched when he was nervous and how he ran his hands through his chocolate hair when he smiled. His crystal blue eyes that bore through her soul, the pressure of his lanky body, and the way his mouth felt against hers.
Tears welled in the corners of her eyes. Oh, how she wanted him. Right here beside her to brush her hair from her face and smooth it down her back, to catch her tears on one of his long fingers. Forgetting isn't an option, it never was.
Unconsciously, her hand had clenched the note, crumpling it. She pulled it out and saw the charcoal smeared across the surface of her palm. Oh, look at the mess you've made.
If they would have never met, if their eyes hadn't locked in that dimmed room, if she hadn't reflexively wanted him from that moment on, she would have never made a mess of things. She wouldn't have doubted herself. She would have never damaged his pride, or destroyed his trust in her.
Silently, she slipped the note into her jean pocket, letting the charcoal leave its mark on the faded material. She didn't need to read the words he wrote, he had already told her on multiple occasions exactly how he felt. We're different. You knew that from the start, didn't you?
And she did. She knew that she was a girl set in place, an island stationed in the sea, while he floated by, always moving, always changing. He couldn't stay like she could. He'd drown, slowly and painfully, his lungs giving out under the water's pressure.
All she had ever wanted to do was to save him. To bring him ashore and pump the air back into his lungs. But maybe that wasn't the answer. Maybe all she ever needed to do was swim with him. Glide through the water thinking only about the next stroke of her arms, her next breath.
Quickly, she darted out the front door, fingering the note crammed in her pocket. As she ran home to pack her things and follow him to where he'd constantly sought to be, she screamed out the one thing she had always fought to control.
"I want him!" Her elated voice reverberated off the crowded buildings, waking dreamers with her night owl call.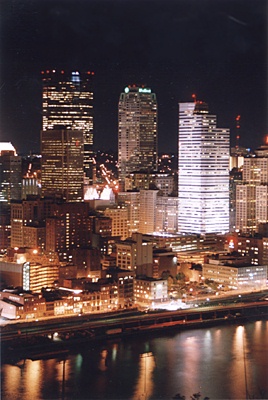 © Dena G., Pittsburgh, PA