Reflection
March 26, 2009
Dawn wasted a lot of her time in front of a mirror.
She learned one time when she was seven years old that most people on average spend two weeks at a stop light in the course of their whole life. She imagined that she would spend two years looking at her reflection, dissecting parts of her body, hating this, hating that. It seemed like it anyway.

Dawn rested her hands on her hips, flouncing her yellow sundress. She loved the yellow sundress on the red-headed model at the store she went to in New York. But she did not like it with her hips protruding and her thighs rounded. The yellow screamed "look at my fat" and the fabric coming from the white belt made her abdomen appear more spherical. The model probably never had to worry about weight in her entire life, Dawn thought, but I have to work at it everyday. Some things in life were just unfair. Some people would just wake up, slip on a cute pair of too-big-for-them cargo pants, and be able to eat, say for example, a cheeseburger and a chocolate-mint milkshake without gaining in size. Dawn woke up early, spent an hour deciding which outfit to wear, eat half a bagel for a meal, and gain weight by simply breathing. It was one of the many unexplained things in life, like after-life, or maybe people's fixation on American Idol.

"Dawn! Time to get going!" She heard her nanny yell from the bottom the spiraling stairs. Dawn quickly flounced the dress one more time and ran out of her room.

Mira, her nanny of five years, brushed away a blonde strand of hair and sighed.
"You are so beautiful."

Dawn smiled, slowly inhaling, truly trying to believe her.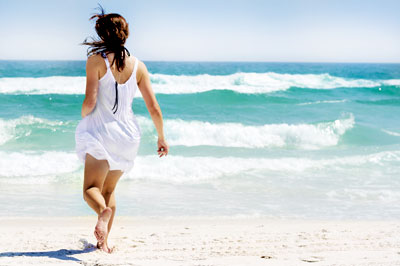 © Rebecca B., Marietta, GA