Worth As a Mother
November 1, 2017
Eight months ago my baby told me she was getting married. I was overjoyed, full of pride in my little girl. Now, the day of the wedding, and I am mourning my own youth. I know it is selfish, I'm her mother. My only job today is to put on a happy face; I've never had such a hard time smiling.
For the last eight months, I've helped my daughter with just about everything -- finding the perfect setting, dress, decor, guest list, etc -- and the whole process has been (tiring) such fun. I cherished every moment I spent with her. After all, she's all grown up now. The youngest of my three has been living on her own for eight years. Eight years. Eight months. Eight months of pure joy, but today it hit me. I'm past my prime; however, what have I accomplished?
She's walking down the aisle, towards the man she will likely spend the rest of life with. However, I feel entirely disconnected. It's like I'm watching a movie but am absorbed in my own thoughts. Something in me cries out "Look! It's your daughter! Your daughter's getting married!" But I don't hear it. Instead, I wallow in my own disappointment.

Yesterday was the wedding. I smiled, gave hugs, congratulated the couple, went around and thanked all of the guests for coming. When I got back home, I immediately sank into my couch and was left with my thoughts.
"Look what you've become, nothing but some lady whose life is over 'cause her kids are getting hitched!"
I don't cry, or get angry, or anything. Just sit and wallow, the thoughts creeping in doing their damage silently. Even my husband can't see my quiet torment. He always knows when I'm upset, because I make it quite clear. Especially for him, he's the one who receives all my anger. But for whatever reason, I'm not taking it out on him this time. Maybe because I feel entirely responsible for my own worthlessness? I'm not sure.
Now, three days after the wedding, and it's only getting worse. On the bright side, my children are all going to lunch with me today. Well honestly, I don't want to go to lunch, but I can't stay on this couch any longer. I love to get dressed up! I put on a lovely blush blouse, and accessorize with some jewelry. It's uncomfortable, I don't have the energy. For today a hoodie will do. I change, put my hair in a ponytail and go.
At the restaurant my oldest and youngest already have seats. I slide into the booth across from them after hugs and kisses. My oldest, a 34 year old little boy tells me about his job, his wife, his little girl born earlier in the year. My youngest, the bride who unintentionally started this all, tells me of her plans to go to Costa Rica later in the month. I've never been to Costa Rica. I've only been out of the country twice.
So many, many years, and I've only left the country twice.
As my daughter finishes telling us her plans, my other son walks in. I notice his hair is longer than usual. It's always been darker than his brother's, though they have nearly the same face. Many ask if they are twins but they are four years apart. My daughter, she doesn't look as much like them. Her hair is blonde like her older brother's, but she looks more like me. The boys are obviously their father's, but my daughter, she resembles me during my lost youth.
As my son gets closer, he sees it.
"Hey mama," he says, preparing to console me. "You seem down, what's wrong?"
I reply. "Oh I don't know love, just a little under the weather is all."
"No something's up, you can tell us!" He wasn't letting it go.
I would've liked to have said something along the lines of, " I've just been feeling a little useless lately. You're all grown up, and it feels like I'm ancient. It feels like I haven't done anything with my time."
"Mama," my girl croons. "Talk to us, what is it?"
"I'm just feeling the age love," I say softly and shortly. I've had enough of them trying to make me a victim. I want to move on.
"Let's not do this guys," my oldest orders in a benevolent voice. My little ones know better than to test him, so they pipe down.
After the meal, my oldest again takes charge and pays the bill. I look at it out of curiosity and see he's tipped 25%.
"Honey, that's so much!" I exclaim.
"I could tell something was off about our waitress," he responds, "she was upset. Don't worry, wasn't that much more."

Looking at them all, I remember once when my oldest was in fifth, my babies all went to the park to play. I sat in the car parked right in front of the swings, everything visible but the big slide. Naturally, that's where they all went. My oldest led the others over to my only blindspot. When I looked up from my book and didn't see any of them I nearly had a panic attack, but quickly realised they were likely just on the slide, so I slipped out of the car to make sure.
I will never forget what I saw. It was simple, but it stuck.
My two year old was holding on to the top of the slide for her dear life. My oldest stood behind her in a tight embrace. At the base of the slide stood my other boy. As my girl cried, my oldest said, "You don't have to scared. Look, if you don't want to go you don't have to, but it's totally safe. I can even go with you!"
And so she went, wrapped in her brother's arms. My son stood at the base and caught her as she slid out. She began to jump up and down, a huge smile plastered on her face. My boys fist bumped, successful in making my daughter's day.
These children, my children, they were so good. I saw it everyday, through their outlook and their actions. So it wasn't a waste. These wonderful human beings that I had created, that I had raised so well. They were now out in the world making the lives better of everybody they came in contact with. My children were my greatest accomplishment.
"I did a good job, huh?" I laugh, glancing at my babies. "I'd love to go to Costa Rica."
I know now my worth as woman. My worth as a mother.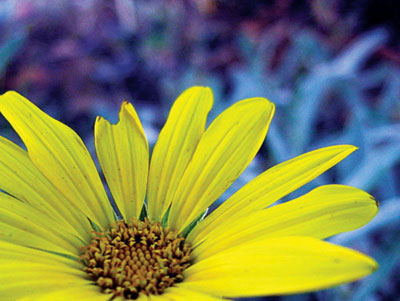 © Roopa S., San Jose, CA