A Cold Hand
October 16, 2017
The night was alive with red and yellow glowing lanterns, vivacious music, and a bountiful of ripe fruit. It was Day of the Dead in Esmeralda's home village, it was a day of remembering the dead and passed loved ones. She was making her way through the bustling crowd with a bowl of fruit on her head, she was going to leave it on the same grave she has visited throughout the years. Suddenly she felt a tug at her dress; she looked down and saw a little boy named Ignacio.
"Esme', Esme'!" Ignacio pleaded, "may we dance?". He looked at her with big soft eyes. Esmeralda glanced at the grave she was heading to and paused. She sighed with a smile and put down the basket of fruit.
"Okay Ignacio, let us dance!", Esmeralda took his small hands into hers and began to follow the rhythm of the music. She spun him around and sat him on her hip as her barefeet made marks on the dry ground. Ignacio saw his friends in the midst of dancing with her and promptly left esmeralda with a kiss on her cheek as he ran to his friends.
Esmeralda went to immediately pick up her bowl of fruit, remembering the tomb she longed to visit. She arrived at the headstone and sat down. Her long fingers, calloused from hard work, traced the grey rock where her husband laid beneath. He died in battle and never got to say goodbye to her. Esmeralda let her quiet tears fall onto the grass, weighing each blade down.
"I will always remember you Miguel" she whispered. She placed the bowl of fruit on the grass and lit two candles, one on each side of the stone. She wiped away her tears with the back of her hand and got up. Esmeralda looked longingly at the name engraved on the rock and smiled. She revisited memories of their time spent together. She caught whispers of images of his warm dark eyes and crooked smile. She closed her eyes and began to sway to the music. Esmeralda imagined Miguel in front of her, holding her waist and hand. As she spun and twirled on the dry patches in the grass, dust flew around and swirled like red smoke. Her chest grew warmer as images of Miguel became vibrant and alive. It was as if his spirit was present with her, breathing and glowing, like the candles she lit in his name.
Lost in a trance, Esmeralda accidentally bumped into the headstone, awakening her from her daze. She noticed that quite some time has passed and decided to join the few others that had decided to stay out late.
"I will see you again my love, just like always", Esmeralda turned to leave when she felt a cold hand grasp at her wrist. She looked down and saw a brown arm protruding from the soil. Scared, she yanked her hand away and the arm retreated back into the soil.
"Act natural until they've gone" said a muted but familiar voice from beneath the earth.
"M-Miguel?!", whispered Esmeralda. She got down on her knees and brought her ear to the grass.
"Miguel!", she repeated louder, with her hand striking the ground. The villagers who stayed out late celebrating witnessed her commotion and ran to her.
"Doña Esmeralda get up! What are you doing?" asked Gabriel.
"I- I saw him, no, yes! He...he spoke to me!" she stammered. Liliana wrapped a shawl around Esmeralda's grey hairs and shoulders.
"Doña, I think you should go to your home and rest, it has been a very long night" Liliana said.
"But, but Miguel touched me! Please, I know it!" she exclaimed.
"It has been forty years since his death Esmeralda, perhaps his spirit is coming to you but we all believe you must rest", said Juan Carlos, a wise Santero.
"Juan Carlos I know is spirit is visiting me. I may be old but I am not insane!", cried Esmeralda.
"Take her to her room and watch over her Liliana", advised Juan Carlos.
"Let's go Doña, perhaps you'll dream of your love" Liliana said to her in a comforting tone. As they walked away, Esmeralda continued to preach about the event.
"When will she stop" asked Gabriel to Juan Carlos.
"When she finally gets to be with him, that is when", he replied.
"She has made a scene almost each year!" Gabriel exclaimed.
"You see mijo", began Juan Carlos, "when you have an immense pain in your heart, it begins to find an outlet to mend itself, especially a broken heart". They retreated away to their houses. The candle flames on Miguel's grave flickered one last time and suddenly went out. The lovers were finally reunited, and the white smoke from the candle danced into the night.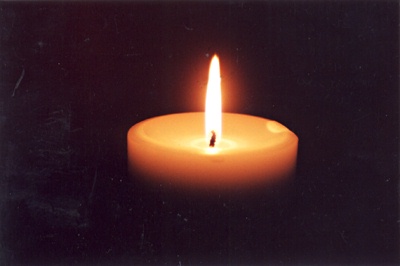 © Ashley D., Philadelphia, PA