Rules
October 15, 2017
Looking around in my room, it is plain and bright. No sharp objects. There are rules and that is one of them. Stay in control is another. The room is square and dull. Only one ounce of color. A decal on the wall of a tree. They say it will help me. They say it will soothe me. They say it will keep me entertained. In my room I can't keep track of time. I have human contact only 3 times a day. And everyday I ask the same questions.
"Why am I here?" I ask. "Why can't I go outside?" The nurse always responds in a nice tone so she doesn't "set me off" as the doctors say.
"You can't leave because you are different," replies the nurse.
"I just want to punch a wall," I say.
Now these big, bulky gloves are put on my hands and I can't take them off. They say not to hurt myself. Once every couple of months the real doctors come for checkups. I yell and kick and beg them to tell me why I am here. They are never convinced enough by my pleading to tell me the truth. I tell them I have been getting headaches more and more as the days go on, and the pain is unbearable. When I'm sleeping I dream of when I used to be free.
My favorite summer was the summer of '99. It was one of those summers where the air was dry and there was hardly ever a breeze. Wait they are talking to me again, I have to focus. I have learned what to say and not to say so the gloves will be taken off, so I have to listen carefully to know what they are asking. Then I remember something else. I had tried to make it look like an accident, but what was it that I didn't want anyone to know? I keep hearing sirens in my dreams now. I'm not sure what any of this means and I don't know what to do about it. So I tell the nurse that is usually nice to me, about what has been happening. They say to give my body time. They say to let myself remember. All I see are flames and I hear people screaming from a house. I stand there watching as disaster strikes. Now the police cars are showing up and I am being thrown to the ground with my arms behind my back. I think back to all the rules, the gloves, the bright room, and the beeping of key cards being swiped. Then it hits me. I had set the fire. I am the arsonist. I'm walking out of the insane asylum now, with no one chasing me. I don't even turn around to see what I have done. I know from the heat on my back that I have succeeded this time without being caught. They used to say what's done is done. Now they would say that history repeats itself.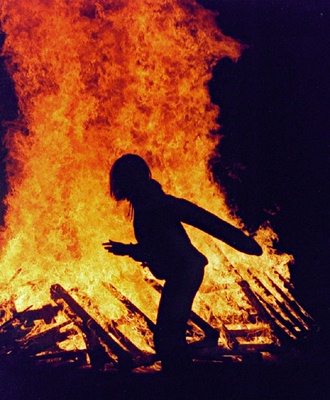 © Hali S., Robinson, IL