Bleach Man
October 3, 2017
Bright glaring lights burned into my eyes as I waved to the camera, the fake smile hurting my cheeks. Sweat dripped down my back, the thick rubber suit heating up like a sauna as the heavy plastic, oversized bleach bottle cap dug into my head.
"And....cut! Good, that's the last shot for today guys, let's pack up and go home." Max jumped from his director's seat behind the camera. The hot lights cut off and my face finally relaxed out of that horrid smile. I began the long waddle back to my dressing room so I can release myself from this plastic jail. Nobody noticed me shuffling passed, too busy to give the actor who played the bleach bottle in the Clorox commercial any attention, and I didn't mind. The hustle and bustle of cleaning up behind the scenes was nearly finished when I had finally managed to enter my dressing room.
"Took you long enough, Daniel." seethed the Costume Director, Mary, as she leapt up from her seat and began to roughly tug me out of the costume, leaving me in the horrendously unflattering blue rubber morph suit.
"Well you could wait by the set so you wouldn't have to stay until I stumble all the way back in this plastic nuisance!" I kicked the thick oversized bottle for emphasis, handing her the obnoxiously blue cap which she simply tossed to the side without wiping it down, a clear indication that I was going to be doing her job for her. Like always.
"There's no wifi out there, so you can just hurry it up next time!" Her shrill voice cut through my ears as she carelessly threw the costume back into its box and exited the room, slamming the cheap wooden door and making it rattle on it's hinges. I huffed and reached behind me to grope for the zipper that would release me from this sausage casing. Sweat soaked my skin in thin sheets, the sudden exposure of fresh air chilling my skin and sending shivers up and down my body. I turned the suit inside out, the pungent scent of my own sweat assaulting my nose as I hung it from the rod in the back of the cramped room and began to wipe it down with ridiculously strong scented, but complimentary, Clorox wipes.
Rusty nails squeaked in protest as I flopped into the chair before the dirty, streaked mirror. Yellow lights ringed the glass in cloudy bulbs, casting an eerie glow on the room. The bags under my eyes deepened with shadows, my thirty year old face looking twice its age. Deep wrinkles cut across my forehead and connected the edges of my lips to the outside of my nostrils. I sat and stared at myself, wearing nothing but a stained pair of boxers, as I slowly rubbed lotion into my dried out hands, rubbing the excess into my thighs. I continued to hold my own gaze for far too long, watching as my face turned into that of some stranger, like when you say a word so much it doesn't sound real anymore. Everybody should have left by now, including me, but here I was wallowing in this dim, pee colored light.
A bottle of bleach stood beside the mirror, its pristine packaging contrasting with the yellowing wallpaper. I felt as though it were gazing into my soul, taunting me with it's cleanliness and undeniable fame. The brilliant blue cap and label stood out mockingly, deepening the scowl that had formed out of habit on my face. Somehow, I was reminded of my lonely life, who would want to befriend a man who dressed up as a bleach bottle for a living? What family would want to claim relation to me? I felt an overwhelming swell of emotions rising in my throat, tightening like a hand and making it hard to breath. I couldn't handle it anymore, this torture had to end.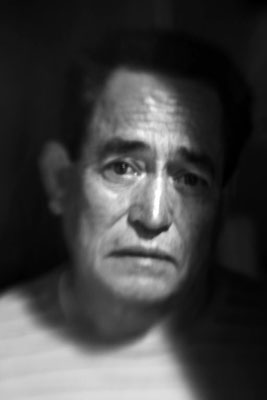 © Adam P., Goleta, CA