I Once was
September 28, 2017
I'm scared. I'm tired. I'm not me. The girl I see in my mirror isn't who shows up to school five days a week. When the lights turn off I lay in my bed reminiscing the past.. There was at one point a happy girl who had a true smile. Who laughed at the stupid jokes heard in the halls. Who constantly whispered small secrets into the ears of her best friend. The type of girl who loved it every time you complimented her, but never believed it. Who said I love you back every time it escaped from your seemingly perfect lips, and felt a sharp thought of doubt claw its way into her thoughts. She blushed when you kissed her cheek ever so softly, and deep down was scared that she would lose you and this wouldn't last forever Guess what, she was right to be scared. She was hurt before what would stop it from happening again. Nothing, absolutely nothing.

Three months and three days later her fear came true. That was it, who knew that one small sentence would rip your heart right out of your chest and smash it into what seemed to be a million pieces.. That one small sentence ended our time together and changed me forever. I fake a smile every time I walk through the large red metal doors of our school. The very same school that I bumped into you by accident and dropped all of my books. That was the start, and now this is the end. How naive could I have been to fall into your never ending rabbit hole. What was it that sucked me into your vortex that could hurt me so much. I wish it was a dream, but it's not. I wish I could go back and hear the whispers between us. I wish that I could feel the way I did when your hand brushed over my skin and the electricity between us filled my body. I wish I could call you mine again. But I can't. I can't just go back and change the way things whent. That's the reality of it. I feel a river of salty tears cascade down my face and when I reach up to wipe my cheek I look at my reflection.
Instead of the girl I once was, I see a weak and hurt child trapped in the prison of her own body. I hate what I see. I have pushed back so many doubts that every single one is flooding back into my mind and crushing me from the inside out. Memories of your bright green eyes, the feather soft locks of your hair, and the way you bit your lip without even thinking about it push through my doubts.

It'll be okay. That's what everyone says, but not this time. People ask constantly if I'm any better well heres your answer, I'm not okay and I'm not alright. I feel as if I am being pulled under water with an anvil tied to my waist and nobody Is here to save me from myself. I don't want to drown in my own tears but I am. Every microscopic ounce of what small hope I had left has been taken from me. At a time I believed in love, but that was the girl I once was. She's gone now good job.

Yours truly,
The girl I now am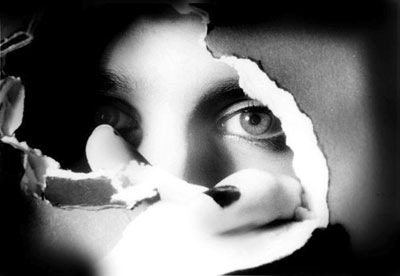 © Tabatha B., Peoria, IL