Love life!
September 25, 2017
It felt like my life had just begun. But it didn't. I am only 28 years old. But at this time I'm only 16 I didn't know this was going to happen. It felt just like a normal day. But when I look back how could I think that. Ugggh. I was so stupid.

Monday, September 14

There he was,his first day at a new school. He's in almost all of my classes. Except second and fourth period. When i'm around him I get all nervous and my face turns beat red. And I think to myself a guy like him would never date a girl like me. He's mr.popular and i'm just a nobody. He probably doesn't even know I exist. But for him thats a good thing. Right? I sit next to him in calculus,but i'm just like his calculator telling him the answers. But that's what everyone uses me as. He'll never think of me as something different.

Wednesday, September 16

I found out what his name is,it's Blake Mash. Today in calculus he said he likes this girl named Maddy. That's my name but there has to be around 12 Maddys in the school. So after class I asked him what her last name was and he said " can't tell". He walked me to our 6th period but that doesn't mean anything. Right? We don't have the same seats everyday so he sat next to me. He kept talking to me,and after class he and his friends walked off laughing. And that's when I knew I blew it. He hates me. Great.

Thursday, September 17

Somehow he got my number, and during Lunch he text me hey! And I didn't know what to do. So I just texted whats up? And do you know what he said? The sky that's what he said. So during chemistry we kept texting. Turns out his favorite color is orange and his favorite fruit is pineapple. Just like me.

Friday,september 18

HE ASKED ME OUT!

Saturday, september 19

Turns out he does like me. We are going to the movies tonight we're seeing Take Me Home. He picked me in a range rover. And we went to Steak n Shake and the movies. Then in the car he held my hand. I actually felt like somebody for once. He told me he will see me on Monday.

Monday,september 20

In all the classes I have with him he just ignored me. Why? Then at lunch I saw him with that pretty girl. They were laughing and he moved her hair out of her face. And kissed her. I should have known. A guy like him would never date a girl like me.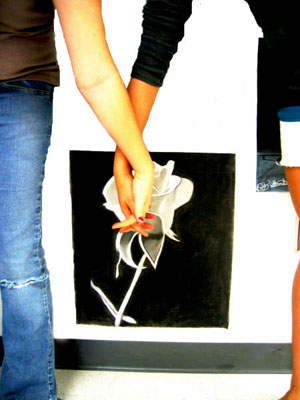 © Josie G., Wilmot, SD