She Is A Hurricane
June 29, 2017
She is like one of the girls in a John Green book. Different. Spontaneous. Intriguing. She is most certainly a character.
We were heading down back roads. She always gets a little nauseous riding down the windy curves of the pavement. Music blaring and windows rowed down. Her wavy blonde hair tangles from the wind. Her blue eyes close. They close so tight she can she some yellow dots from the sun beaming down on the windshield. Peace.
She always had this thing with flying. No, not in a plane-it was more like dying. Jumping. Oh, how she wants to escape. Her eyes open wide, viewing the yellow flowers just starting to spurt up in the spring air.
"Stop. Stop the car." She commands as she unbuckles her seatbelt and walks over to the grass.
She hands you flowers. Although, she feels guilty for picking them. The flower was still growing. Wondering, did she end its suffering? The constant struggle of trying to stand? Or, did she make it worse? Maybe, it was ready to bloom.
One hand out the window. The other was touching your thigh. She was craving the chaos. She was craving the screams of the atmosphere, so she sticks both hands out the window, including her head. Oh, how the tangled mess of her hair was like a hurricane. Or, maybe it was more than just her hair being a tangled hurricane. Maybe, it's who she is.
Not the kind of mess that spins around, uncontrollably leaving everything it touches to ruins. The kind of storm that twirls through damage and still has power to keep revolving.
She is a storm, and god, how grateful I am that she is something as strong as a hurricane.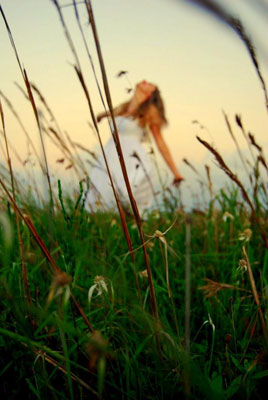 © Richard F., League City, TX