The Library
June 20, 2017
This place is a living hell.
It's like all of my worst fears are coming to congregate right here in this very library. The flickering of the fluorescent lights. The musty feel to the air. And worst of all, the people. They're terrifying. The fat man that was sleeping at the table diagonal from me. The dude organizing the already-shelved books, even though he doesn't work here. The loud old guys sitting at the back talking about some sort of theory. The rude Jewish man playing (and winning) a very long game of chess. The lady with one closed eye and scarlet hair that sat at the table behind me. The old, accented man that just gave up on his game of chess with the Jewish man. And the creepy, short guy who was telling somebody over the phone that once he got his teeth fixed, he would have "more chicks than he can count".
Oh, it's horrible. I don't know why the people at the library are like this, but they are. I don't make eye contact with any of them. If I do, they might try to talk to me or sit down with me or, and most horrifying of all, they might try to touch me.
It's stressful, being here and not being able to look at anyone. But if it's what I have to do to prevent interactions with these strangers, then it is what I have to do. Though, because I can't look at people, I have to find other things to do while I'm here. That's very hard, considering how loud it is. There's very many sounds all around me, trapping me. The plastic-ky sound of chess pieces being scraped across a checkered mat. The consistent beeping and ringing of the library's various machines. The British lady's accent as she details the public library system to an Asian man. The kid explaining something in that whine that children have. And worst of all, the overall, never-ceasing din of the sounds of all the voices, of all the machines, and of all the actions mixed together, bleeding into one another. It gives me anxiety, hearing all these sounds overlapping. I very much want to leave, but I have nowhere else to go. But it's hard to focus with all these distractions. I'm not quite sure what to do.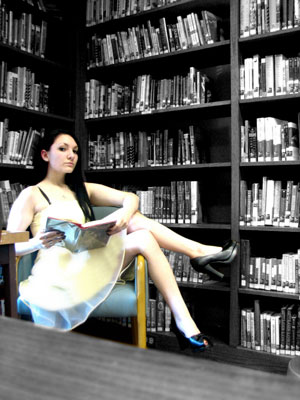 © Jessica F., Bradford, MA