The Election
June 18, 2017
It was fundamental that in order to increase the chances of me, winning this year's School Council Election for my year, I had to dress like a potential candidate. I had carefully polished my black loafers the evening before, with intense care. I checked my uniform for any stains and fortunately there were none. Immaculate appearance is what could drag this election in my favour because frankly, I was often called 'scruffy and clumsy' by my classmates and friends. Well, I'll prove them wrong. Tuesday 13th June, instead of being remembered as the day we finished our GCSEs, will be remembered as the day a certain underdog by the name of Satyajit Shetty conquered The Election.
However, while I was worrying about my own campaign, I also had to think how I was going to challenge and intimidate my opponents. There was Thomas Know-it-all who was one of the smartest guys going around whose ability as a fine debater and persuader would stand him in good stead as a candidate. Then, came the mighty figure of Hap Hooda whose push for more sport ahead of lessons such as Wellbeing and Extension Science put him in the hot seat. Lastly was a guy who had everything: the personality, the ideas and the smartness; of course I'm talking about Master Machan. I found it hard to believe how someone could be so well liked and if this Election was one won based on popularity, then it would be a comfortable victory for Master.
The whole year kept coming up to me saying," Get prepared for a real bashing on the 13th!" He was my main threat.
With the help of my representatives, Lou and Pilkington, I read over my manifesto. That's right; a manifesto that took me a few hours to prepare that I had stored on a USB flash drive.

Lou exclaimed," How do you think you'll win this election by boring everyone mate?"

I pretty much got the same vibe from Pilkington whose visual expression seemed to read, "You're done for".
"Come on guys!" I said. "Tina told me that this was a way to win: structure is key!"

I'm sure you're wondering who Tina was. Yes, she's a girl I liked and she was Head Girl too. I knew her from Gym Club and was hoping that we would become closer but there was only one way that was happening; if I won the Election.
Mr Wright called out our names one by one to give us our speeches. The atmosphere was electric with music being played and banners of "Go Master!" spread over the hall. This felt like playing the Final of a tournament. We lined up in the corridor. They all said the same things really: more water fountains, more food options etc. Once it was my turn, I strutted on stage to the sound of passionate boos. Obviously, I couldn't say what was on my mind. As I started to speak into the microphone I felt a sense of agony within: my USB flash drive had fallen out of my blazer. I searched underneath the table through my pockets but there was nothing. Laughter began in the crowd and to add salt into the wound, I saw Tina giggling too. But I wasn't going to give up that easily. I decided to talk about problems that seemed logical to improve: our quantity of homework was one of them. I was proud that I managed to come up with two policies that hadn't been mentioned yet.
"We must ensure that we, as pupils concentrate in lessons which can only be done with enough sleep. To be blunt, we're not getting that because of so much homework. I will create a new chit; the SD (Sleep Deprivation) in order to give us a chance of focusing. Also, I plan to allow all pupils to go out for Lunch instead of eating School Lunch at least once a week. Form teachers will give each of their boys, a sheet which the boys then have to give them on days when they plan to eat at a restaurant. This will ensure no more whining about food hopefully."
By the end, I felt a small sense of relief when the crowd gave warm applause. Tina walked up to me at the end quite reluctantly.

"I'm so sorry but I have a confession," she said.

"What?"

"I took your USB flash drive."

"What?" my jaw dropped.

"I wanted to see if you could do it without that manifesto and you did. I realised I was wrong and I shouldn't have made you walk away from running this campaign yourself," she said putting an arm on my shoulder.
"Thanks," I said knowing that she meant well.

"At least you know you'll have one vote for you!"
When the election results came in, they were announced at an assembly. The expectations were low but at least everyone was saying things like 'awesome presentation pal' to me. It just so happened that I sat next to Tina as the results were called out.

"Good luck", she whispered.

It all boiled down to this. Two words. Name and Surname.

Mr Wright walked up to the stage. I bit my fingernails.

"The winner of this year's Election is…Satyajit Shetty."

At the same time a kiss landed on my cheek.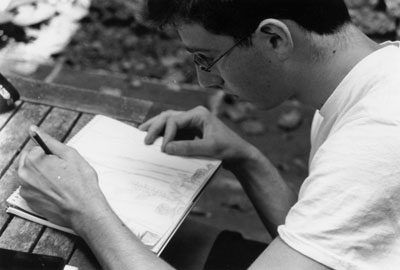 © Kira L., Bethesda, MD