Reflectionless
June 11, 2017
    Pillows as clouds, blankets as my parachute, I jumped from Cloud Nine. The sharp inhale of my lungs feels like knives in my back as I catch myself falling, falling, falling from the sky and crashing back to Earth. My confidence leaves me as I tumble back into my routine loneliness each and every day with that first deep breath and grip with reality. It possesses my body and prys open my heavy eyelids, despite my opposition and fight to keep them shut.
    The bed sheets cling to my legs, begging me to stay and dream for longer. I get dressed and prepare for my day at school, a land of confusion and isolation for me. As I step out of bed into my abyss of a bedroom, I feel something new cling to me - silence. I am alone until the door opens.
    Like a drone, I am carried towards the noise of my hollering and howling younger siblings, draining my ears of the comforting quiet. Reaching for my backpack as I pass the hanger on the wall I sit in a wobbly, wooden-legged stool that perches under the kitchen counter.
    "Mornin', Caleb. Any more odd dreams last night?" My mom hollers over the wolves in our small house.
    Although my ability to ask for a listening ear has a history of failing, I should tell her. Surely, my own mother would be invested in me. Mothers are a families' Joan of Arc; they hold their heads high and hold together those who follow. A patron saint, those who know the pain of people like me who are social outcasts, yet somehow, carry the weight of the world. Moms understand, don't they?
    "Yeah, I did."
    "And that was?"
    "It was the mirror dream again," I explained to her. "I stare into the glass and what do I see? nothing. Not even my own reflection. I am all alone on the other side-"
    My youngest sibling, my brother, howls over me from the table in the kitchen, "Maybe you are a vampire!"
    Mom laughed along with him. "Ready for school?"
    Maybe I was a vampire. Stone-cold in the passenger seat as I was dropped back off to the place that made my blood run still, that turned me into this monster - my school.
    I try and float on Cloud Nine again through the heavy-metal double doors and twisting, painted- cement-block corners. But try as I might, I can't escape from the noise. And whenever I try to speak, swim in the murky unknown, I am pulled in deeper and deeper until I drown in my own confusion. I want a friend, the noise of a light hearted conversation or heated young love soap opera - but the more I attempt to engage in talking to my peers, the more my voice is muffled by my own insecurity.
    I am familiar with noise, yet it is a stranger to me.
    Silence yanks me into the men's bathroom, closing the swinging door behind me. Taking a deep breath again, I run my statuesque and vampiric hands under the cold water of the sink and rinse my face. The mirror greets me. But what I see is merely a shell of myself, with painted-black under eyes and white, dead lips from unspoken words. Although I feel all alone again on the opposite side, I feel at home with myself.
    Cloud Nine is in my mind, yes, but that is where I enjoy being. When I speak, I drown, so why plunge into the dark, unfamiliar waters anymore? The faces that pass me in the hallways are all a blur, but the reflection in the mirror is crystal clear. In my reflection, I can hear a million pleasant conversations ringing through my ears, no longer a noise but a clear, beautiful symphony of sounds echoing off the walls of the bathroom and back again. There is a comfort in seeing a friend that understands you, even if that friend is your own monster of a reflection.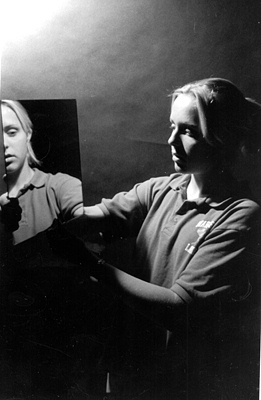 © Hadley B., Marblehead, MA