Camp and Concussions
June 10, 2017
Cheer camp. It was something that under no circumstance was I looking forward to, and for a reason. I am very bad at sleeping in places that aren't my bed. The first day of cheer was great until my stunt group got switched. I was now with a group I had never done anything with.  In the morning, we gathered in the courtyard, which is where we would practice while we were at camp. There were workers that would come around and help us. We decided to attempt a straight up extension. To do that, we had to bring the flyer all the way up over our heads with our arms fully extended.
"Just the same thing as an elevator push-up to extension, just don't stop." my base partner, Taylor explained to reassure me. Taylor had dark, black hair. She looked powerful and was a great leader.
"Okay. I can do this." I reassured myself.  I was ready.
We threw up the stunt and just as we almost made it up, my flyer, Kate sank down straight on the back spot. Everyone was starting to get very annoyed. Kate was one of the most difficult flyers you could get. She was super tall, which meant getting into a stunt was a lot harder. 
"You held my ankles too tight!" Kate wailed. She was always the worst whiner. She blamed every stunt that fell on the three of us.
"I did not!" my backspot Savannah responded. Savannah often stayed quiet. She didn't want to add to the commotion. "You just sat down in the middle of the stunt… right on me." she finished.
We kept trying and fall after fall, I was getting very angry. The three of us weren't the only one's frustrated, the team was too. One cheerleader came up to us and pulled the three of us aside after another fall.
"Just let her fall." she told us. "She will learn her lesson that way."
As much as I wanted to let her fall, I wasn't going to purposely do it.  My coach approached us.
"I want you girls to try a one leg extension." she told us.
¨A what?" I asked. I was involved in gymnastics my entire life and this was my first year as a cheerleader. I was learning everything as I went. When they explained to me what it was, I knew we were in trouble.
Oh no. This can not happen. We couldn't even do a straight up extension properly and now she wanted us to attempt a very hard stunt for beginners. In an OLE, the bases and the backspot all grab one foot and lift the flyer up on one foot. The images of us falling went through my head as we prepared the stunt. I used to be a side base which is on the right side and now I am a main base which is on the left side, which is now way easier than what I used to do. When I was told exactly where to put my hands on her foot, one on the top and one on the bottom, we decided to try it. The first try was unsuccessful because Taylor and I didn't put enough power in. The stunt came crumbling down.
"We really need to power this up." I said. We decided to try again. I put all of my might to make the stunt stick and we all did our jobs Kate. She decided she wanted to do something a flyer should never do in an OLE. When we went up, she was supposed to keep her other foot tight against her leg. Instead, she flailed it everywhere, kicking me straight in the head. The stunt immediately fell down. She gave out and fell directly on me. My head started hurting terribly. I was dizzy and worried. My coach immediately took me to get concussion tested. Although I was crazy out of it, the trainer told me I was "concussion free" and it was just a "bump on the head". But I still sat out the activities that entire day.
When the day was over, I was feeling so sick. My mind was racing and my head still hurt. All of my friends and teammates that saw me was convinced that I had gotten a concussion.
"Maybe you should go get checked by the trainer again." my roommate said. I once again sat out the next day, still dizzy. "Are you ever going to come back?" my friend asked me. "I have to later today." I said. I forced myself to go back in after lunch. If my injury wasn't already bad enough, malnutrition and dehydration definitely didn't help. This is why I don't leave home.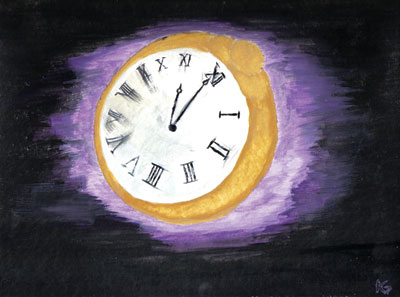 © Kyle G., Clarksville, TN