A Glimpse of Heaven
June 9, 2017
He used to love sunsets. I remember the first time he shared that love with me. I was five. The sky was a clear, light blue, with the sun at the top, hinting of its daily departure. He looked out the window of the old shack we called home, then looked at me with a great excitement in his eyes.
"Catia, have you ever seen a sunset?" He asked.
At the time, I was five, and I didn't know what the word really meant. I replied, "You mean the sun?"
Chuckling, he responded, "Come with me. I want to show you something."
As he put on his shoes, I examined the front door. It had chips of dark brown paint scattered around the frame, with a circular hole in the middle where a window used to be. I was trying to reach up high enough to stick my fist through the hole, when the rickety old door started to creep open so slowly, you would think the hinges had been covered in molasses. My father grabbed the hand I had raised, and took me outside.
As we were walking down the cracked, mud-stained sidewalk, I started to notice the sky changing color. It was still blue on the bottom half, but the top was tinted orange. There were just enough clouds in the sky to split the two colors into perfect equilibrium. I keep watching the sky, noticing every little change, as if it were as interesting as my favorite television show, Dora the Explorer. After a few more minutes, my father pulls me off the sidewalk, and into the yellow-green field of grass and dandelions.
"We're here," He says. I look around a bit more, but all I see is more grass and some scattered trees.
"Here where?" I ask him. Still holding my hand, he walks deeper into the yellow-green sea, until we reach a patch of grass greener and more voluminous than the rest. "Here where, Dadda?" I repeat. He lowers himself to the ground and lays flat on his back, his eyes reflecting the little glimpse of heaven they're looking up at. I drop down next to him, and say once more, "Here where???"
"Look up." He explains, almost too softly to be heard. I do as I'm told, and see the most beautiful picture the sun has ever painted. Hues of magenta, crimson and lavender are covering the surface of the earth like fireworks on the Fourth of July. I now understood why he took me here. He wanted to show me what home really looks like.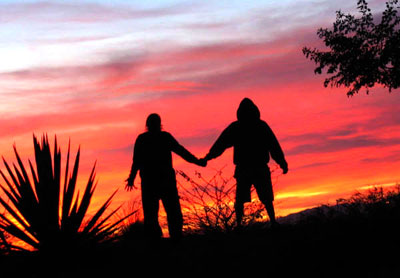 © Rosanna S., Phoenix, AZ