Choices
June 8, 2017
I'm a good student, I promise. I say to myself as I lay in bed with three blankets wrapped around me and my eyes fixed on the screen of my iPad. One of these blankets Jessi gave me as a gift, and the other one was worn with huge holes in it. There were holes big enough  I could stick half my body through. I bet that I could make my whole body fit, if I really tried.
"Karen," my mom calls down. "Are you doing your homework like I told you to?"
"Yes mom," I responded not so enthusiastically
My thoughts had been interrupted with the unfortunate truth. It was then brought to my attention that I should maybe look at my homework. The angel on my right shoulder said 'Start your homework, and get it done,' but the devil on my left said 'Who cares about homework, just do it later.' The devil on my left shoulder won. Quickly I went back to my business. Hah, she thinks I'm actually doing my homework. Joke's on her I think to myself looking at my wall. I want to paint my room. But what color? I like grey but would that be too dull? I don't know, grey is a pretty accurate representation of myself. Its bland and boring but with accent colors its cool. The stores closed but the internet never closes.
"Home-depot-dot-com" I say out loud as I go to type. In the keyword slot, "grey paint." I have to keep my options open. 1852 items found, who knew there could be so many types of grey paint. I wonder how many shades of grey there are exactly. Is there any way to know? How could you tell? Oooo this one is pretty, but this one is cool but wait i like this one, but wait this is different, oh wait no that is gross and ugly who would paint their walls with such color. They are a disgrace, no whoever created this color is a disgrace and shame to the people who made it into a paint.
"How much more do you have to do?" She asks.
" Mom, I'm almost done. If you keep bugging me at this rate, I may not finish for another year." I responded.
"Ah well then, I will leave you to it," she said sarcastically.
For a brief moment of time, I considered actually starting to do homework. If I get it done now, i can go to bed or early or fit a few more episodes of One Tree Hill in. The bit of motivation came and went too soon, but it was good while it lasted. I resumed my routine once again mocking the obliviousness of my mom. Who does she think I am? Some awesome student who actually comes home and does their homework. HA! Thats funny.  Most days I come home and lay in bed. One Tree Hill seems like the way to go. But I'm almost done with it. No, I don't want it to end. What am I supposed to do with myself when it's over. I'll have to find a new show. That will be a sad day.
I am interrupted by the sound of my dad's voice, "Karen, time for dinner."
"Okay," I shout back.
Oh no I didn't do my homework. What if they find out? WIll I get in trouble? They won't notice. At least I hope so. And the feeling of panic comes back too soon.
"Oh shoot! I have that paper due at midnight."
I look at the clock and it's 11:15, thoughts of worry flood my head. What if this isn't good enough? What if I do bad? Well… I guess I had this coming for me. Turning the paper in, I did not expect much. My mom always told me your grade reflects your work ethic. She was right. I didn't do well.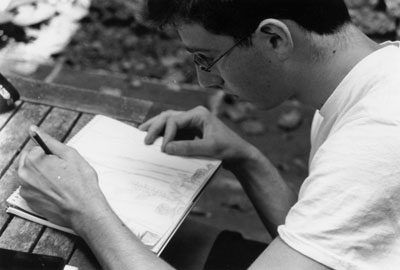 © Kira L., Bethesda, MD