Tiki Taka
June 6, 2017
I've lived in this house since I was 10. Now, I won't tell you my age, but I have gray hair. That should be enough information for a guess. You see, I lived basically my entire life in this house, but now i'm moving. I'm leaving my longest and best friend. I am packing up and moving next week! I am in the final stages for packing now, and only have the attic left. I'm walking up the stairs and my knee starts to hurt. Of course, old age!! I used to be the fastest in my school. I would always get the fastest mile time, I would play soccer, but now, it has all faded away. The old stairs creak as I go to my attic to start packing my things up. I walk into the dark room, dust and cobwebs clashing in my face. I walk to the very back to get the bags, but I notice a small, old, and dusty chest next to me. I go over and open the lid. Inside I see toys. Yes, toys and lots of them as well! I played with these when I was a kid! I rummage to through the box to see if I can find anything that I remember. Ahhh, there was my car. My metal toy car. I played with it day in and day out when I was a kid, but now it was missing 2 of 4 wheels and the red paint had worn off.  I keep looking through and then at the bottom I find a old, dusty, deflated soccer ball. Of course, this was nothing new to me. I bought oodles of balls when I was young but this one was special. What can it be? I thought. Then it hit me like a mountain of bricks. This was the match ball for our school team final game. It was the championship! I remember that game like it was yesterday. 80 years ago, it was the final game of our season and we were playing for the trophy. Westbrook middle school, one of the top in the state was our opponent. It was a overcast, gloomy day. Dark clouds loomed above us, the air was fresh, and the rain was imminent. Our school had never won a championship before. We warmed up before the game, and got ready. The moment had arrived. It was time for kickoff.
"Tweet!" The refs whistle had blown. The game had started! Westbrook got off to a strong start and netted a goal in the first 10 minutes!
"Come on guys! Get your heads up!" I yelled to my team. That seemed to have worked because the next 10 minutes were all us. Our passing was like tiki taka and we scored a swift goal. The half ended, with the score tied at 1-1. After a short 5 minute break, we were pumped up, but so was Westbrook. The game started once again with the tweet of a whistle. Intensity was back in the air.
It was their goalie's ball.  He placed it on the fresh, dewy grass and prepared to give it a boot. I saw the direction he was kicking and moved 5 yards right. The ball landed right in front of me. I moved it upfield, inching closer to the goal with every step. I was right in front the goal. But right as I was about to shoot, a kid stuck his foot in between mine from behind and tripped me. I flew down hard to the moist grass, with dirt on my shirt. I immediately looked over to the referee but I didn't see a signal! I had just been tripped in the box, from behind. That's a penalty plus a red card! My teammates were on my side. They started asking the ref, but he wouldn't budge.
So the game moved on score tied at 1-1. The clock ticked away, as the seconds became minutes. If neither team scored within the next few minutes, the game would move on to penalties. With 2 minutes left of regulation, it was our throw in at the half. My teammate threw it right to me. I was open. I started dribbling ahead with rapid speed.. The first defender challenged me but I simply touched it past him. The second one came shortly after but I outran him. I was standing in front of the keeper! With a smooth kick, I curved the ball and thankfully the wind factor was on my side. It curved the ball just enough so that it would nick past the post and in the goal! We had won the game! One moment I watched the ball as it caressed the net, the next moment I was at the bottom of a pile. My team gathered all over me as we jubilantly celebrated. We had a classic trophy photo where all us gathered around it and posed for a photo.  That trophy now, is sitting behind glass sliding door of my ancient middle school. The clouds let out their first droplets of rain, as it started pouring down.. We let the rain soak into our ecstatic feelings and continued to celebrate our triumph. I picked up the soaking ball and gently touched it against my head as a sense of pride and put it in my bag. At that moment, the windows of my attic rattled as I snap back to my senses.  As I did 80 years ago, I bend my head and touch the ball.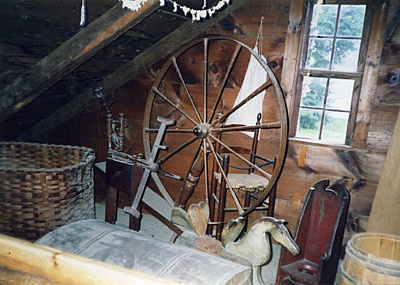 © Christopher S, Milford, CT