The True Meaning of Saturdays
June 4, 2017
Have you ever gotten up, at 8 AM on a Saturday morning, smelt the breeze, hear the birds chirp, watch the wind blowing through the window, and then just go back to bed until 2:00 PM? Today I just wanted to sleep, but my Mom was not happy about it. I woke up (for the second time) with my Mom screaming at me;
"Ezra! Get up!" I woke quickly in a startled daze.
"We have things to do to today, and I told you to clean your room!"
I can't really say that I lept into action to clean my room, but I did start shuffling around. This seemed to have more of a negative effect on my Mom's attitude, as her frantic yelling just increased in volume. "Saturdays are for sleeping" I mumbled to myself as my Mom left my room in a frantic rage. I didn't get any Breakfast that morning, and I only got a little bit for lunch, but after my Mom left my room, I went back to bed, and I promptly fell asleep. This is the true meaning of Saturdays: Laziness and Lethargy that last the entire day, if not the next. Any opposition simply blows away in my mind.
My Mother was utterly furious with my actions, and I did pay the full price of my choices, through kitchen and yard chores, but all in all, I do believe it was worth it.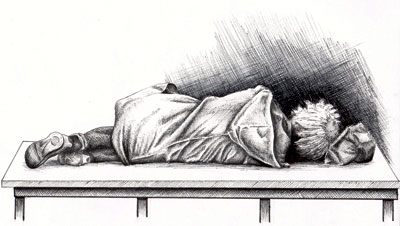 © Devin N., Sherrills Ford, NC