Journey through new york
May 30, 2017

All throughout high school I wanted to move to New York and go to the school at the new york school of visual arts. When I heard that I got in, I couldn't wait to go.
"I can't wait to meet new people and find some actual friends." I said to my mom with hope for some good friendships different from high school. On my way to New York I looked at all the people walking on the streets. They looked so confident but in a way alone. My mom was telling me how this was one of the biggest universities area wise in the country. If there is one thing I can't do it's find my way around new places. Once we got to my dorm I didn't think there was an end to it because of how big it was. It took me a good 20 minutes to find my room. My mom helped me get all my stuff up to my room because it was like a mile away from the car.
"Good luck in school, love you" My mom said to me as she went back to the car.
"Love you too." I replied.
The first day of orientation we were supposed to go to all of our classes and meet our teachers. I couldn't figure out what the difference was between Cross Creek Grove and Cross Creek Parkway.
"Do you know where Cross Creek Grove is?" I asked to a girl walking next to me.
"It is all the way on the other side of the campus."
"Could you show me?" I asked, hoping to make a friend.
"I guess so." she told me. She seemed very nice and smart about where things were. I could really use someone like that.
"Thank you so much." I said with gratitude. As we walked, she would talk all about her experiences at this school and all the friends she has but didn't seem to want to know anything about me. I was going to say something but didn't want to interrupt her and make her leave. When I got to the class I realized I forgot to get her name. It was too late because by the time I looked out the door, she was gone. I was a little upset but I knew I would be able to find her again.
It was rough trying to find all of my classes after that because they were all spread out. I went walking around to see if I could find my new friend but I couldn't catch her anywhere. Nobody else would help me find who I was looking for and I just spent the rest of my orientation time trying to find the only person who was nice to me. Once I found my dorm room, I was able to get some sleep before my first day.
I woke up to a loud alarm, got my stuff ready to go, including my color coded map of the entire campus, and went on my way to first hour. I was almost there when I saw the nice girl from the day before.
"Hey!" I yelled trying to get her attention. I was so happy to finally find her. She looked over and saw me waving to her. She looked at me in a nasty way and went back to talking with her friends. All I wanted was to see if she could help me out again, but I guess I was wrong about her.
"That's Becca, she will only be nice to you if her friends aren't around her, my name is Lexi by the way." She told me in a sweet voice.
"My name is Maddie." I replied. Once we got to talking she helped me with all of different ways I could get to my classes. She is in four of them with me so we would be walking together a lot anyways. I eventually learned my way around and found a real friend to share my time with in the big city.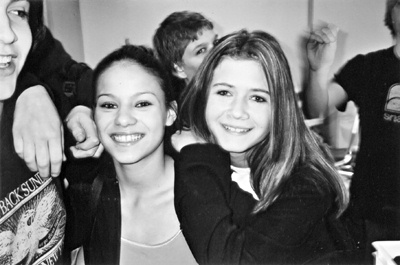 © Gary C., Pequannock, NJ