Live for Now
March 19, 2009
White light gleaming from the hanging chandeliers sting my swollen eyes, as people wander from table to table. Blank faces enter the room and search, with open arms, to familiar faces. Warm embraces, tight holds, and tears combine to become the flowers that blossom in one of her remaining pictures. Swift and elegant strokes from her sketches and paintings gracefully dance along with the background music, but the emptiness lingers. The once apparent sparkle in their eyes vanished, replaced with dimness and doubt. Hearts join together in mourning, including mine. My friends and I create a circle with our heads down and our arms over each others shoulders, puddles of tears descend to the floor.

Every time I look to the sky or into his eyes, I think of that day. It was dark night and there was a cool breeze that shook the branches of the menacing trees. I remember
sitting at my kitchen table playing a stupid computer game, I think solitaire, when I got the text. My friend, who I hadn't talked to for several months, texted me asking for my prayers. Something must be wrong for him to contact me, I thought. Dear God, I remember saying quietly with my head bowed down, please let everything be okay. Please. When I got the call, I waited a few seconds before I clicked the TALK button, something was telling me the news was bad. I listened to a mumbled static then finally I heard his detached and solemn voice and he told me. What? No, it can't be. Oh my gosh. Shock stunned me silent and broken. I called my other friend and suddenly a rush of pain came over us as we began to cry.

How could this have happened? She was so young, only 19 years old, and her life was abruptly cut short by a brain aneurism. Even though I did not know her very well, from the stories I have heard from those close to her everyone understood that she was extraordinary. You know you always hear people say "Be the difference, be that change that everyone needs," but she really was that change. She was the pebble slowly falling into a clear blue pond, expelling ripples of water to the edge of the pond. Her beauty inside and out, she caused ripples of love and change in the hearts of everyone she touched and encountered. She offered a helping hand to everyone and was a light of happiness. She unconditionally loved her family and friends shed mercy when others wouldn't and her smile radiated and her eyes were understanding. Never have I seen someone so open and charismatic, which makes it that much harder for a person to let go.

She was an artist, one of the greatest I have ever seen. Every picture was drawn with such passion and detail with every stroke perfectly placed. The way she depicted the sky made it feel like it could be touched, like its limitlessness could be attained. The first painting I ever looked at was one of her self-portraits. The hands seemed to be the most intricate and emotion filled. I could not understand her fascination with them but now that I think about it, I think that I can grasp why. You see with her hands, she created beauty. From sculptures to paintings, her hands were the voice of her soul. She opened these same hands to people. Whether it was through a high five to her classmate, a reaffirming hand on a friend's back, or a gentle hug to her boyfriend, she opened her hands unflinchingly to love.

You see when I first heard Daphne Willis' song title "Live for Now" I was forced to ask myself if I could say that I live by that phrase. Constantly looking to the past and worrying about my future, I knew I could not yet claim that to my name. But one name did come to my mind. I know she reached out to people everyday, she reached to learn, reached for the impossible, reached for beauty, reached to connect, reached to make each day worthwhile.

As I walk around at the memorial of her, I gaze upon one particular art piece. It is one with a tree painted on a piece of wood, but it is split into 3 separate pieces. That is kind how I think of her now, still part of the picture but just separated from us for a little while. Her example not only lives now but will live forever. Everyday when I look at the sky, I think of her influence on my life and her profound wisdom of her purpose on earth. One would almost think she knew, and that she and God had an agreement. She was to live each day for Him and she would get to see how amazing Heaven is. I know she is His right-hand girl, painting each beautiful sunset. But then again, we all know, the questions we must answer are: how will we choose to live and what will we do to "live now"? As for me, I hope to live like her. Make each moment one to remember, change someone's life, make something beautiful, be beautiful, and love with all your heart.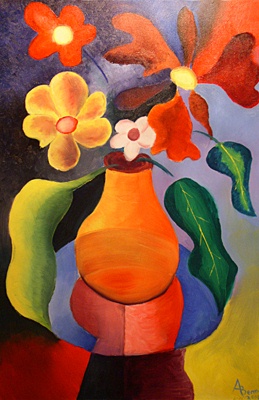 © Alexander B, Highland Park, IL