Ball is Life
May 11, 2017
Ball is Life
It was 5 o'clock in the morning when my mom woke me up, saying, "Are you ready to go grandad's house?!". I was so excited, but I was dead asleep. I drudged myself downstairs, went to the garage and into the backseat of the car next to my sister, who was already cuddled up against the door behind the passenger seat. As we pulled out of our garage I saw my house for one last time in southern Georgia and then passed out, waking up 10 and a half hours later in northern Kentucky, surrounded by cows and goats in the middle of nowhere, U.S.A.
As we pulled into my granddad and grandmom's driveway I hopped out of the car while my dad was still parking the car. He immediately yelled at me, scolding me that I can't open the door while the car was still moving. But I didn't care, I ran up to the door, nearly falling over the brick steps up to the porch, where my grandparents were waiting and gave them both a big bear hug. I loved visiting my grandparents. My grandmom always baked me chocolate chunk cookies which was a strong favorite over getting a novel that she recommended I read (which I rarely did). My grandad would always play me in chess and checkers, but my favorite thing about seeing my grandad was that he would go out and teach me the fundamentals of basketball. In his backyard, on his rickety old basketball goal, the same one my dad played on as a kid, was where I developed the love for the game that persists within me to this day. And after I unpacked my luggage, and ate some of my grandmom's cookies I immediately went outside to go shoot some hoops with my grandad, and let my dad sleep after a brutal car ride (I think I may have been kicking his seat in my sleep the whole time up here). 
"Hey Grandad lets go play some basketball!", I shouted as I searched for a ball in his garage.
"Alright Chris, I'm coming. Why don't you go stretch out a little bit, I wouldn't want you to tear anything," he slowly replied while making his way down the stairs to the basketball goal.
"Look at this ball I found!", I exclaimed as I held the ball up to his face.
"Oh wow, is that a Kentucky logo on there?", he asked, clearly knowing what the logo was on the ball.
"Yeah, I want to go to Kentucky just like you. And play basketball there too." I said, revealing my biggest childhood dream to Grandad. I loved Kentucky play at Rupp Arena, named after legendary coach Adolph Rupp. Every year I got a Kentucky basketball poster, with a picture of all my favorite players and a schedule for every game they would play that year, home games were colored blue, and away games were colored white.
"Well that is a mighty fine dream there son. Maybe I'll get to see you play one day in the royal blue," he said, although he probably thought I would never get a chance to play for Kentucky. "Now let's play a game of H-O-R-S-E."
"O.K., I get the first shot." I said as I stood a few feet away from the goal and banked a shot in, after calling bank, forcing him to hit it off the backboard to avoid getting an H. He got up and shot it, banking it off the top right corner of the box on the backboard and sending the ball straight through the net as he had done hundreds of times before while playing the same game, H-O-R-S-E, with my dad while he grew up. After about 30 minutes he let me win (purposely missing that same bank shot he has made hundreds of times before) and we went inside to go eat some of Grandmom's cookies.
My grandad and I kept playing basketball every time I visited his house until my freshman year of college, when he passed away from prostate cancer at 87 years old. But before he died that I was a little bit better than I was when I was an 8-year-old kid, barely beating my grandad in a game of H-O-R-S-E. In my freshman year of high school I made the varsity basketball team, but rode the bench the whole year. My sophomore year of high school I was the 6th man, the first one off the bench, and one of the better scorers on my team. My junior year I finally cracked the starting lineup. And I rocketed on to college coaches' radars across the country. After my junior year, I had Division I offers from schools like Wake Forest, N.C. State, Tennessee, Georgia, and Clemson. All respectable, major conference basketball programs, but not the royal blue I desperately wanted to play for, Kentucky. My senior year I was in the ESPN Top 100 players for my class, the class of 2013. Even with that honor I still hadn't received an offer from the University of Kentucky. I worked my rear end off the fall before my final basketball season in high school. And it paid off in my first game. I had 50 points, 13 rebounds, and 7 assists. An all-around great performance. I kept that play up through the midpoint of the season, receiving offers from elite programs such as Kansas and UCLA. But nothing from Kentucky. Then one day, while checking the mail for my mom, I got a letter from Kentucky. My mind raced. I thought, "This is it, I'm heading to play for Kentucky, Big Blue Nation!". But it wasn't an offer. It was a letter of interest, letting me know that John Calipari would be at my next game, January 12th, against my school's crosstown rival.
I couldn't get my mind off the game. During class I could only picture myself crossing over my defender and pulling up for three, or maybe driving it hard down the lane for poster dunk. My teacher called on me one time and all I heard was "Yatta yatta yatta, Chris?". And my response was, "Pullup three,". Fortunately, right after I said two of the smartest words in my high school career, the bell rang releasing me from class, and right to the locker room to get ready for my big game. Four hours later, at 7 o'clock my name was introduced and as I ran on to the court, with the student section shaking the bleachers, I saw John Calipari sitting in the front row. I nearly fainted, there is my whole future, my childhood dream sitting in the front row, I had an unimaginable chance to achieve my childhood dream. And I had a career game. The first play I got the ball on the wing, crossed over and pulled up from three. The ball was in the air for what seemed like an eternity, but finally it passed through the rim, hitting nothing but net. For the rest of the game I was locked in, unconscious on the floor, making every shot I looked at, not letting the man I was guarding even touch the ball while I was on defense. I finished with 55 points, 15 rebounds, 9 assists, and 5 steals. I was ecstatic with my performance, hoping and praying that it was enough to secure a spot for me on Kentucky's roster, playing for Big Blue Nation. And then John Calipari walked right up to me.
I started panting, like a dog, I thought I was going to pass out, for the second time that night. He started talking, "Hey Chris, that was quite a show you put on tonight."
"Thank you, Mr. Calipari, I felt great out there," I politely replied, not wanting to make him think I was a weird kid or anything.
"Well after that performance I am excited to offer you a spot on my team next year. You'll be a part of Big Blue Nation," he calmly said.
Even though he was calm about it, I was not. "Mr. Calipari, you just completed my childhood dream!" I screamed right in his face giving him a bear hug, probably nearly ruining his $2,000-dollar suit. But I didn't care, I was going to play basketball at Kentucky.
The day of my first game as a Kentucky Wildcat I was so locked in and focused on the game I didn't talk to or listen to anyone that wasn't a coach or a player. I wanted to prove to Coach Calipari and the rest of the world that I was ready to play and excel at the collegiate level. During warm ups, I soaked up everything around me, the atmosphere of Rupp Arena, making sure to firmly implant this memory into my brain, I was never going to forget this experience. I looked for my grandad somewhere in the crowd, but couldn't find him, I figured he was just going to the bathroom or something. I knew I wasn't going to start but that was fine, I knew I was going to take advantage of the opportunities given to me. And when that opportunity came, 5 minutes in to the game when a starter picked up two early fouls, I took advantage. My first possession I stole the ball from the opposing team and easily dunked, getting a standing ovation from the crowd. The rest of the game went exactly as planned, as if a higher power was watching over me. I finished the game with 20 points, 8 rebounds, and 4 assists. A superb stat line for any freshman's first game at the collegiate level.
After the game, Coach Calipari gave me the game ball because of how well I played, and the media surrounded me, wanting to know how I pulled off such a stellar performance. But after all that was over I looked for my family. I only saw my mom. I went up and gave her a big hug, and she just began crying on my shoulder. I asked her what was wrong.
She could barely reply, muttering through her tears, "Your grandad is… is… he's dead. He died right before the game started, we didn't want to tell you. I'm so sorry,".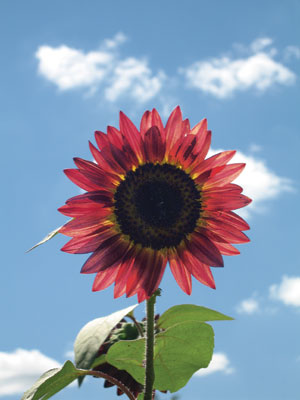 © Lydia N., Greenfield, IN