Drawing a Family
May 8, 2017
The night before school was set to start, Kaeli couldn't sleep and she felt like a child on Christmas Eve. She'd been playing school since as early as she could remember and tomorrow was her first day with her own class. She'd made sure every sign was hung, every child's name tag flat and without crinkles, the books aligned perfectly along the shelves. The next morning she woke before her alarm even had the chance to go off. She curled each hair and took exceptionally long on her makeup. When she was finished she slipped on a pink sundress and through a cream cardigan over it. The drive to school had Kaeli full of first day jitters. She went down the first grade hall and finally reached her door, she ran her finger over the label outside the door, "Miss. Blaine". When she got inside she was walking around and admiring the room she'd always dreamed of having. When children started arriving she greeted each one individually, and their parentals if they were present. She noted characteristics about each child to help herself remember them better. The first stay went by exactly as she had hoped and she knew it was going to be a good school year.
As the year went on, Kaeli learned more and more about her students from personality characteristics to their academic strengths and weaknesses. When they returned from Christmas break, Kaeli had seen another child added to her roster and an email from Principal Sways. The new student's name was Quinn Roberts and she was moving from Cedar City, Utah. Kaeli made a name tag for her and placed it on an empty desk beside two girls who she hoped would be welcoming to Quinn the next day. When Quinn arrived, her blonde wavy hair was pulled back into a messy ponytail and she wore a floral dress that seemed a bit tattered. She carried a Scooby Doo lunch box and stared into the classroom from the doorway. Kaeli welcomed her in and introduced her to the class. At lunch time Kaeli walked all of the students to the cafeteria and offered Quinn to sit with the two girls she sat by in class, Caroline and Emma. Quinn nodded but proceeded to sit by herself. She needed time to adjust Kaeli told herself before she started letting herself think too much into it. The for the following days, Kaeli watched and observed Quinn. She noted things about her just as she did the other students in their first days.
As the year progressed on, the class was learning to read and to write. Sight words evolved to sentences and counting turned into addition and subtraction. Kaeli was so proud of her students as they learned more and more. She continued to notice things about her kids every day. Lately, just before spring break Quinn continued to wear the same few tattered outfits, but lately she had been layering things together even as the weather grew warmer. Kaeli noticed the trends but tried not to contribute it to anything more than a seven year old girl who wanted to experiment with dressing herself. The scooby doo lunch box had been making fewer and fewer appearances to school and her hair ran stringy and untouched before class. This behavior was rare and almost unheard of in the small town of Grainfield. Kaeli couldn't stop thinking about Quinn after leaving class. The following weeks lessons plans were about family relationships. Monday morning, Kaeli gave each student a blank sheet of paper and asked them to draw their family. Most students drew their mom and dad, themselves, some had siblings, some had pets, some drew houses and some did not. Kaeli tried to take a moment to talk to each student about their drawing. When she got to Quinn's desk, she looked down at the paper and saw a single figure, in a dress with long yellow hair scribbled on.
"Quinn, where's your drawing?"
"This is my drawing right here," her finger pointed down at the paper.
"Where's your mommy and daddy?"
"Uh my mom is sleeping. My dad doesn't live at our house anymore."
"Why don't you draw a picture of when your mom wakes up, so we can see her too."
Kaeli directed all their students to put their drawing on her round table before they lined up for afternoon recess. She made a mental note to find Quinn's later on as well.
While they were outside, Quinn fell down off of the monkey bars and began to cry. Kaeli went over to and scooped up the child. She pushed up her sleeves to look at her arms and what she saw was enough to make her jaw drop. Fingerprint bruises were scattered among the child's arms.
"Quinn, what happened? How did you get these bruises?"
"I don't remember," her voice still shaky from crying moments earlier.
Kaeli sent Quinn off to play, when the students went to lunch, she emailed Principal Sways.
In the email, Kaeli addressed her concerns both physically and academically with Quinn. Kaeli had suspected signs she had seen during her mandated reporter training sessions in school, but as a first year teacher she was worried she was over thinking the signs. After reporting her suspicions, just an hour later the school nurse came in and asked for Quinn. Reluctantly, Quinn rose from her seat and went with the woman. Quinn didn't return for the rest of the day.
In the nurse's office, there was a female police officer, her red hair slicked back into a bun. She greeted Quinn with a warm smile when she came in but the tone in the room was ice cold. The police officer took Quinn behind the curtain and inspected her body for any signs of physical abuse. Then she asked her a series of questions. The officer said nothing to the nurse other than wishing her a good continuation of her day and a quick goodbye to Quinn. That evening, Kaeli spent hours researching and trying to find out more information on child abuse and neglect. She saw lists of warning signs and symptoms on every website and began to feel guilty that she had waited so long to report them to the school because she was afraid of reporting nothing and overthinking it as a first year student. The days passed and Kaeli wondered more and more about Quinn. She was coming to school but not always, and the signs were all still very apparent. During spring break, a police officer knocked on Kaeli's door. She opened and after an exchange of hellos, the officer explained that she was there to get a formal statement from Kaeli because there was going to be involvement from the state to remove Quinn from the home. The officer explained to Kaeli as best she could within her bounds about how corrective steps had not been taken or followed through with. Kaeli provided them with everything that she knew about the family. Just before the officer was about to exit the home, Kaeli asked her to wait. She went down the hall and found her school bag. She rummaged through it long enough to find the drawing Quinn had made of her family. She gave it to the officer and asked to be kept in the loop. That night Kaeli was up again searching site after site trying to see what the next steps for Quinn would be. If she had any immediate family, they would be given the first opportunity to take custody of her. This would keep Quinn within the family and minimize the emotional trauma she could potentially endure if she goes through the foster care system. Kaeli's next search shocked herself but yet she couldn't stop her fingers from hitting the keys and pressing search. How to become a foster parent, the words staring back at her. Five bullet points that potentially could change her life or a child's. Participate in a home inspection and social assessment;
Participate in a home inspection and social assessment
Complete 27 hours of training focused on foster care and the needs of children who are in foster care;
Complete a criminal background check of all household members;
Be financially stable; and
Complete a health screening that includes verification that immunizations are up-to-date.
Again, Kaeli couldn't stop herself. She clicked on the application and entered every detail of her personal information. She submitted it and printed the confirmation paperwork that told her to expect a phone call shortly and that if she hadn't in 30 days, to call the number listed. Kaeli continued on each day checking her phone for the messages. She kept a close eye on Quinn and did her best to make things at school for her as ideal as possible. Two weeks had passed and Kaeli had heard nothing back for the state. Her doctors appointment for a health screening and immunization was set for the following tuesday. Monday night, the phone was ringing just before five o'clock.
Kaeli ran to the living room and grabbed it just before she thought it would go to the answering machine. Forty five minutes later she was set to have a home evaluation tomorrow afternoon. She emailed Principal Sways and let her know she would need a substitute after lunch tomorrow. After she ate dinner, Kaeli tidied up around the house and went to bed. She tossed and turned through the night nervous for her home interview. The next day at school Kaeli taught about the life cycle of a caterpillar in preparation for the caterpillars the class would be getting next week. After lunch, Kaeli left and headed home. Instead of pacing through her home watching as time passed, she decided to grade some papers from kids. She scattered the sheets of paper across the kitchen table and tried to focus until she heard a knock on the door. What seemed like an eternity later, she heard a light, rapid tapping on the door. She went out to foyer and opened the door. It was a woman who appeared to be in her 60's, with grey hair curled just below her ears. Her dress was shouting spring, a sky blue wrapped in yellow sunflowers. Her presence was warm and inviting. They talked for a while in the foyer and then walked through the home. Kaeli was confident in all of her answers and when the woman left, she was happy with how the interview had gone. Kaeli continued on with the process watching webinars every night to gain her training. Even after long nights of grading and meetings, she prioritized the webinars to be sure she could be certified as soon as possible. Each night before bed she prayed and prayed and she knew she was growing closer to reaching her goal of becoming a foster parent and those two things alone were enough to keep her pressing through.
Late sunday night the phone was ringing. It made Kaeli jump out of concentration on the webinar, this one was about temperamental children. She grabbed the telephone after pressing pause. The screen lit up with a New York telephone number. It couldn't be. Kaeli had prayed for a sign that this was what she should be pursuing earlier in the week when she was overwhelmed with emotion. She answered the phone and said hello, her voice shaky and unsure.
"Hi, I'm looking for Kaeli Blaine. Is this the right number?"
As soon as he spoke she knew it was true. His voice the same it had been before she last saw him. His gravelly tone, spitting through the receiver.
"This is she."
"Kaeli, uh, it's your father. I know I haven't called in a while, years actually, but I am sorry, and I am going to be coming through Kansas with Betty on a road trip. We were going to stop by Grainfield if you wanted. Maybe we could get dinner or lunch."
She was frozen. Why now? Why not 6 months ago when her thoughts were still being consumed with her runaway fathers whereabouts? Why not during the semester she had taken off of college because she was depressed? Why not after he left to at least say goodbye?
"Just let me know when you're passing through. I'll talk to you all later, I'm right in the middle of something right now. Bye."
Click. She hung up the phone without even waiting for his response. Kaeli had thought day and night about where he had been, what it would be like if he came back, how she would respond. She knew now. She was angry, that he and Betty thought he could just pop on by for dinner like they never left. He met Betty when Kaeli was in highschool coincidently just weeks after he and her mom separated, then just after the divorce was finalized, they ran off. Since then, she received a single postcard from them, the great state of New York, signed Dad and Betty.
Kaeli pushed the idea and thoughts of her father to the back of her mind and tried to focus on everything else that she had going on. Day 40 since her application approached faster than she initially thought that it would. She was 4 webinars away from completing the required hours and finally being done with her application. That week she received a phone call from the state while she was working, the woman's name was Georgia and even just the tone of her voice let her know that it was the same woman who had came by her home just a few weeks earlier. The voicemail was direct, but it hit on points that Kaeli had yet to think about.
"Hi Kaeli, It's Georgina from the Child Welfare office in Kansas City. I noticed your file is all up to date and completed. The next step in your process is to talk about the actual acquiring of a child. If you know someone that may be in a situation to need foster care placement we can talk about that route, but if not we would submit you to the database and hopefully get you matched in about a month. Another thing to think about for this is time off work to get the child accustomed to your home. If you have any questions or concerns, please let me know. Otherwise, call me back at (555) 567-5432 and we can get the process moving along. Have a great day."
Kaeli hadn't thought about if she would want to try and take Quinn in as her own, or another child. She just knew she wanted to provide a safe outlet for a child in a bad home. After work, she called Georgina back and they set up an in person meeting the following day. The next day at school, Kaeli's class was taking a small field trip to the library. They had been working on reading all year and the children had finally grasped what Kaeli thought was enough to get their own book.The kids were so excited and this made Kaeli very happy and proud to be in the profession she was in. The weather was growing warmer and Quinn was still wearing long sleeves and pants. The last Kaeli had heard was that she was staying with her grandmother for a short duration for the case to be built but she could not care for her for an extended period of time. Kaeli and Quinn had grown much closer throughout their time together, just like Kaeli and her other students. Before leaving school to go meet with Georgina, Kaeli stopped by the office to try and catch Principal Sways. She explained the situation at hand with the fostering and the proposition of Quinn. Principal Sways was uneducated on the topic and referred her to the schools social services representative. Kaeli made note to call her, but first she was off to her appointment with Georgina. She drove down to the city and was lucky enough to beat traffic. The building was an old refurbished house. She walked in and was welcomed by a young woman at a desk. Georgina immediately welcomed her into her office where stacks of paper sat on the desks and the walls were lined with photos of families and children. Kaeli was there for almost two hours working out the details. She explained the story of Quinn. Georgina looked through the database and found out that Quinn was not active in the system currently but that she had been through the foster care system once before between the ages of two and three so ideally the state would be trying to find her more permanent placement because her parents are almost guaranteed to be ineligible to regain custody. Kaeli decided that if Quinn's route opened up, she would open her home to her. If not, she would submit herself to the database selection. They also went into the financial responsibilities of Kaeli once receiving a child placement. She would be responsible for providing the child with clothes, food, toys, and anything else that they would need. The state would reimburse her for $24 dollars a day at the end of each month. Kaeli went home and balanced her finances to try and figure out the cost she will be adding each week.
The next month was long and passed slowly. Quinn missed a lot of school and Kaeli had very little updates on anything. School was coming to an end and the end of the year activities were in full swing. Field day, field trips, movie days, spirit days, all working together to keep Kaeli distracted. School was less than 10 days from being out, and Quinn had not been there in a week. Georgina called that day and left a voicemail saying she had good news for her and to give her a call at Kaeli's convenience. Kaeli rushed home from school like a school child would, she was giddy and nervous and she could feel her stomach turning. When she got home she threw together a sandwich but before she ate she knew she had to call Georgina.
"Hi, it's Kaeli Blaine. Is Georgina available?"
The phone line went silent for a moment and then she answered.
"Kaeli, Hi. How're you?"
"Good, good. How're you?"
"Oh good! So I called you earlier because we just got word from the state that we actually won't be placing Quinn in foster care."
Kaeli's heart dropped. She was unsure what this meant, but it didn't sound like good news to her.
"She is going to be up for legal adoption because of the situation with her grandmother's inability to care for her. You have first choice on if that is something that you would be interested in, or there is another family interested in her if you are just interested in foster care."
Kaeli paused. Here in front of her was a whole new thing she had never even thought about. Motherhood. She would be a single mother, but a single mother by choice. She took a deep breathe and let out a sigh, unsure if she was even fit to be a mother. What if she couldn't give her the life that she had deserved, especially after all that she has gone through.
"Kaeli? Are you still there?"
"Oh yeah, sorry. I was just thinking. I think I would like to go through with the adoption process of Quinn, but I would like to discuss it with Quinn if that is okay first, and I would like to come in and talk to you about that process. Until then, I would love her to stay with me if she doesn't have a place."
"Oh joy! Okay, I am going to go ahead and actually fax you the paperwork so that you can get that back to me faster and then if all goes well would you like to bring her home this weekend?"
"That should be sufficient. Is this for sure now? I am okay to start buying the appropriate things?"
"Oh boy yes buy her whatever you think will be good."
3 days until Quinn was set to move in. 3 days until Kaeli is going to be a mother. Kaeli sat at the kitchen table her head in her hands. It was nearing 11 pm, the latest she'd been up all school year. Her emotions were consuming her body and her mind. She felt physically defeated. She decided to phone her mother, even though they didn't talk much. She dialed the number, and when her mom answered Kaeli knew she had awoken her from a dead sleep. After the phone call it had been decided that her mother would fly out sometime today if possible and stay with her and help her get everything ready. Kaeli felt relief from just her mother's support and guidance. She thought about whether Quinn would confidently feel that way about her one day.
The idea of becoming a mother had not hit Kaeli quite yet, she almost felt like she was in some sort of dream. The next morning she called the school and told them she would not be in for the rest of this week most likely but she would be there for the last few days of school. Everyone in the building was thrilled for Kaeli and Quinn and wished her all the best.
Once Kaeli picked Carol up from the airport they went to Kaeli's house to allow her mother to situate her belongings for the next couple of days. Kaeli's mother had never seen the house Kaeli lived in. It was small, three bedrooms and two bathrooms. The living space was confined but it felt cozy versus crowded. Kaeli made DIY projects that filled the home, Carol was infinitely impressed with her daughter. They settled Carol's belongings into the isolated third bedroom and went to the nearest multipurpose store. They strolled the aisles looking for ways to make Quinn feel more at home when she moves in. They decided to remodel the second bedroom with things that she might like. Kaeli thought back to school and things that Quinn was drawn too. Her floral dress and her scooby lunch box were really all Kaeli noticed Quinn ever had. They decided to base the room off of the blue floral dress. They got paint for the walls and found white bedding with blue flowers. They picked out clothes for her that did not have tatters and tears, and even picked up some toys. At the register, Kaeli about fainted. Carol chuckled and told her just wait until she has to be Santa Claus. They spent the next day painting the room and rearranging the furniture. The twin bed was now lined up beside the wall in order to give Quinn more room to play. In the corner, Kaeli set up a doll house and some other toys for her. That night Kaeli and her mother read through all the paperwork. Kaeli signed and signed and signed at some points not even completely sure of the guidelines. Finally on the last page of the last packet was a financial responsibility and rights page. Legal rights to adopt a child was $25,000 in Kansas. Immediately, Kaeli dialed Georgina and they discussed how since Quinn was being rehomed and was not a freestanding foster child after fees and everything the entire process would be about 10,000 dollars. In her head Kaeli knew it was an astonishing amount but she signed and was ready to pay the money. If Quinn's parents had been willing to release and turnover rights to Quinn on their own these fees would have been nonexistent but Kaeli knew that would never happen.
Friday, Kaeli set out to Topeka. Every time she looked in her rear view mirror she saw the child's booster seat that was for Quinn. She was on her way to motherhood, literally. Even though she had never gotten a chance to talk to Quinn about the adoption, she hoped she would be happy. Carol stayed back at the house to finish up some last minute things for the arrival. The drive was long and once again Kaeli felt the nerves she had found herself all too familiar with lately. When she arrived at the house, she sat in her car for a moment. She took a deep breathe in and took the keys from the ignition. She grasped them tightly in her hands and left the security of her car. The wait on the porch drug on and on as she waited for someone to answer the door. Finally, a woman who was much younger than Kaeli had anticipated, answered the door and welcomed her in. Quinn sat on the edge of the sofa, pink backpack stuffed full.
'Sorry, there's really not much else I can send her with." The woman's face and voice hinting at embarrassment.
"Oh no, it's okay. We have plenty of things at the house."
The woman hugged Quinn tightly and it seemed as though tears were about to start streaming any second. Kaeli had not prepared herself for this situation and felt awkward. She supposed she should get used to the feeling being that she was bringing home a six year old child to be her own.
Three months later, Quinn and Kaeli met with Georgina in her city office. They chatted about the adjustment to the home, Kaeli's second year teaching, how things were going with the second grade . Quinn talked about her toys and the kitten they had gotten her last weekend for her seventh birthday, Pinkish. Kaeli smiled, before Quinn came home she'd read horror stories of kids not adjusting well to foster homes and was worried. Her training had warned her of the things that could go wrong. Even after the appointment, Kaeli realized that Quinn was exactly what she needed in her life. At dinner that night, Quinn met her grandfather and step-grandmother, they lit up to meet their first grandchild. The next week at school Quinn was asked to draw a picture of her family for part of her star student poster, when she brought it into the kitchen to show Kaeli, it brought tears to her eyes. Quinn had drawn three houses, one with mom, Quinn and Pinkish, one with Grandma Carol, and one far away in the corner with Grandpa and Nanna Betty.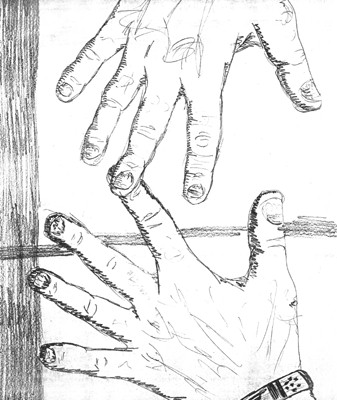 © Katie T., Hull, MA