I am courtroom
April 18, 2017
     As the sun wakes up, it's the same routine. Sunrise at eight. Coffee at eight thirty. Shower at eight forty-five. Make up done by nine. Out the door by nine ten. Then finally the twenty minute drive until the day really begins. The same routine, every morning- perfect.
      Nine thirty she is walking through the door met by the guards. The hushed hallways give her peace of mind to think about the things that matter, her morals. For the rest of the day she will leave these behind-when she puts on the big black robe, nothing else matters but the facts. The perfect facts that will be presented by the prosecutors and the defendants. Facts may seem perfect, but no decision will ever be.
     Ten sharp, the doors open and she enters engulfed in the black robe. Everyone rises as she walks to sit down. "Honorable Judge Sally Wilson presiding", the day begins. The same routine for every case: opening statements, presenting the evidence, closing statements. All seamlessly perfect- or so it seems. The routine for every trial varies and can throw off the timing of the day, but what happens inside the overcrowded, hot, steamy, paneled, federal courtroom is perfect. Perfect because everyday there is a fight being put up for justice and based on the facts that are presented she decides. It's black and white. There's no grey areas; Just perfect black and white decisions.
       Four p.m. the day is over. The courthouse closes and all seems quiet. She goes back to her chambers after the long tiring day. After listening all day and being determined to seek the truth out of the facts sifted by her brain, she can finally relax. The routine returns. Thirty minutes spent in her chambers after the trial is dismissed for the day. She kicks off her heels and sits on her couch.         Five thirty exiting the courthouse, saying goodbye to the guards. Waiting for her to come at five thirty sharp, they lock up and go home. The perfect routine.
        A twenty minute drive home. Five fifty she walks through the door greeted by the warm smell of lasagna. Her husband has the table set with warm dinner waiting for her. She sits down and he pours her a glass of wine. Six o'clock, the sun starts his descent to go to bed. Six forty-five the couple slices into a delicious cheesecake for a little treat before bed, the sun sets. Nine thirty the couple makes their way to the bed as they start to prepare for a new day. A perfect night to end the long day.
        The next day the routine returns, like it does day by day.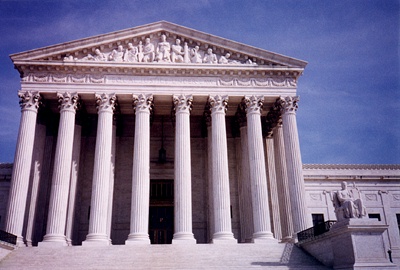 © Whitney K., Milford, CT