0 to 100
April 18, 2017
Yasherica was a 15 year old girl who lived in Myrtle Beach, South Carolina. Her complexion was chocolate and she had dark brown eyes. Her hair was shoulder length and dark brown almost black. Yasherica was 5'7, people always thought she was a grade level higher. She wore black glasses. Her city, Myrtle Beach, was known for its beaches, boardwalks, and amusement parks. It was right at the coast.
Her favorite hobbies were singing and songwriting. She has been writing songs since the age of 9. Her parents bought her an electric piano and a guitar. The piano was grey and the guitar was purple and read Hannah Montana. Not a week that went by that she didn't have a song written. She started off writing contemporary R&B and worked her way to rap. At the age of 15 she was ready to let the world hear some of her songs. After putting her songs out on Soundcloud, she was getting good comments on her songs and people were reposting them. She then gained confidence in her music and started letting rappers listen to them. All of them told her to keep going and she would be successful.
It was June 9th of a summer day around 3 pm. Her sweet 16 was outside on this big baseball field. She had her music playing and she even performed some of them. At the end of her last song, 3 guys came up to her. They were from 11th Street Studios in Atlanta, Georgia. They told her they would sign her. She was shocked and very excited. She thought it would be another 5 or so years before she got that kind of opportunity but it only took 1. That was the best gift and surprise her parents could ever give her. It was better than any phone, new shoes, and even a car.
After Yasherica talked with producers and talked about how everything would work in the studio, Yasherica just thought of something important. Time and place. How was she going to be in the studio when she was still there in Myrtle Beach? She went to her mom, Yashica, and asked her about it. Her mom responded that they were moving to Atlanta in 3 weeks. She said that Yasherica's dad was coming to but he would have his own house. Yasherica wasn't surprised about that, being that her parents were already separated. She was a little bit upset about leaving her other family members in Georgetown, South Carolina. Yasherica, her mom Yashica, and her little brother Trey were the only ones to live in Myrtle Beach. Her grandma Audrey, which was her mom's mom, was moving with them to Atlanta. That's what Yasherica was hoping because she had such a good bond with her grandma.

The 3 weeks arrived and they just got to their new mansion in Atlanta. It was a white 2 story mansion. The kitchen was big. It had an island and it was open concept. They could see the dining room from the kitchen and it had a nice big table for the whole family to come and eat. The living room was an egg shell white and had a big flat screen TV inside the wall. In the corner they had 1 downstairs room. Yasherica automatically assumed that room would belonged to her grandma because she was an elderly and wouldn't be able to go up and down the stairs.
Yasherica went up the curved staircase while her mom and grandma stayed downstairs. When she got upstairs she saw 4 more bedrooms. Other than the master bedroom, she saw another room that had a slide door that lead to an outdoor balcony. Yasherica always wanted a room with a balcony just so she could wake up and go outside and breath the fresh air. She automatically claimed that room because there was no telling what her mom was gonna do with the other 2 rooms. That house was Heaven to Yasherica.
The movers were gone and they were all organizing everything in their rooms. It was now 8 pm and Yasherica was already getting ready for bed. She had a big day ahead of her being that it would be her first day in the studio. She was really excited and couldn't wait to see who all would be there. She didn't eat what her mom cooked that night. A whole bowl of different fruits is what she ate.
The next morning came and Yasherica arrived at the studio at 9 pm. It was a 20 minute drive from her house. It was a brick 3 stories building. The inside looked so much bigger than the outside did. There were so many different rooms and studios. It was like a school. Every studio was different. One of the guys who came to Yasherica's sweet 16 greeted her at the door and showed her to her studio. She didn't know any of the guys who were in that room. They all introduced themselves and got to work. They gave her a good hip hop beat and then she got to writing her lyrics. She enjoyed being in the studio and working with professionals. She was a little bit under pressure. Usually she would write songs in a room by herself but there she had to write in the room with the producers. At first it was kind of hard for her to function.
Writing and songwriting was only part of what she wanted to do with her life. Her plan was to become this huge star and earn enough money to start her own real estate business so she could sell mansions to celebrities. She was also gonna be an author and write books. The music career was only the beginning for her.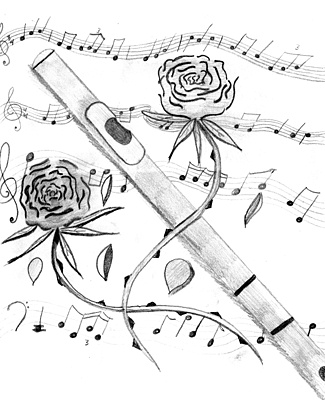 © Whitney S., Philadelphia, MA