Erasure
April 24, 2017
You bring him home with you after eight months.  You hold his hand as you both walk up to your door together for the first time.  You skim your fingers over his in comfort before you reach up to knock the door.  You wait.  Your mother opens the door, smiles, and says how nice it is to meet the man who straightened out her daughter.
When you are seventeen, out of the closet for almost a year, you watch a show called The Fosters on the television.  It is widely regarded as a progressive show, featuring two lesbian mothers raising their eclectic mix of children.  The youngest is a boy named Jude, who finds himself having a crush on his best friend, a boy named Connor.  Connor dates girls.  Until one day he doesn't, and he starts dating Jude.  The boys briefly struggle with defining their sexuality, but after a minimal amount of time, they both say that they identify as gay.  It's sweet but it hits you wrong and makes you think, would it be so bad to say Connor is bisexual?
The 2016-2017 media season, LGBT representation in broadcast and cable television, along with streaming television shows, consists of 184 homosexual individuals compared to 82 bisexual characters.  This is the highest number of LGBT characters in the media's history, and 4.4% of recurring characters come from the queer community.  There exists a skew, however, because bisexual people are the majority of the LGBT community, yet a minority in their representation.
You are bringing him to your home fully aware of this skew.  Your mother, who was there with you when you were sixteen and scared and stumbling out of the closet, is congratulating him for straightening you out.  Your mother, who was the first person you informed about how you identify as bisexual, is congratulating him for straightening you out.  Your mother, who watched you go to your first pride festival alone and wearing the blue, purple, and pink colors of bisexual pride, is congratulating him for straightening you out.
That's not how it works, you want to say.  You take the comment like a burn to your skin.  You worked hard to reveal your identity, and the veil of society sees him with you and covers your identity under heteronormativity and tradition.  You are a woman with a man.  Must be a hetero.
In 2015, the United States Supreme Court legalized same sex marriage.  The headlines shone with praise with the decision to legalize gay marriage.  Gay marriage.  Common thoughts were that the announcement of same sex marriage was a victory for the gay community, the homosexual community.  Did they forget about you?  Are you a living taboo? You bit your tongue, because a victory is a victory.
When you attended your first pride parade, you were ecstatic.  Your community finally appeared in front of you, and you felt welcomed, until you heard women bragging that they were gold star lesbians, who had never slept with a man; until you heard a man say he would never date a bisexual due to their cheating nature; until you saw that biphobia is vibrant not only in the heterosexual population, but in your own community as well.
In high school, there was a GSA club.  A gay-straight alliance club. You often wondered if you were allowed in.  You wondered where you would stand, and if they would make you choose: gay or straight.
Your mother lets the two of you in the house.  You whisk him away to a private room and simmer down slowly.  He pats your back and knows why you're upset but he doesn't know how to help you.  You don't blame him.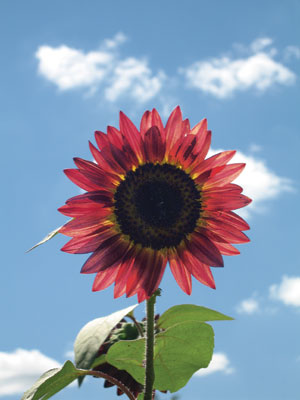 © Lydia N., Greenfield, IN