The Funeral
April 17, 2017
I felt dead, more dead than the girl in the coffin.
"If I don't make it…"

Those words pounded my brain into a pulp. Those words, spoken by Emily Jacobs repeatedly, for six months leading up to being told that there was nothing else the doctors could do. She only lived three months after that.
"If I don't make it, promise me something."
"You're going to make it," I said, more to myself than her.
"Well if I don't, I want you to continue on with your life. Be happy. I don't want to look down from Heaven to see you down in the dumps."
I never promised her, and that was, in a strange, twisted way, a form of comfort. I didn't want to move on. I could still see her. One day she was happy; she was truly happy. She was jumping up and down in excitement for all the views we got on our video channel, her ponytail bouncing with each jump. The next day she was fragile, wearing a beanie over her hairless head and sitting in a wheelchair, a pained smile on her face. Then she was in a hospital, no beanie, IVs and wires here and there, an oxygen mask on her face. Her eyes were closed, and they never opened again.
I stood outside of the building that held Emily's funeral service, my hood up and my head down so that no one saw the tears that streamed down my face. However, I was not alone for long.
"Hey," someone croaked. I would have recognized that voice from anywhere, strained or not. Usually, I would tell Hannah to go away, but these past couple of days were an exception. She was Emily's best friend, and she felt the pain I did. The pain of loss. Of heartbreak. Of loneliness.
"Hey," I responded after a moment of silence.

Hannah peered up at my face.
"Are you crying?"

I shrugged, looking away.
Hannah then did something unexpected: she gave me a hug.
"It's okay, Michael," she said.
That's when the funeral suddenly became real.
That's what Emily would say when I got angry. She always calmed me down with a hug and the words "it's okay, Michael."
I cried harder.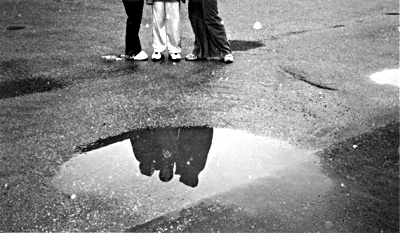 © Gary C., Pequannock, NJ