The Mayhem of Music
April 10, 2017
My stubby, little fingers desperately struggled to press the piano notes in the correct order. It was a simple C scale; all I had to do was play every white key in an ascending pattern. I felt a sharp sting on left hand as I fumbled on the ending of the warm-up drill. My teacher Ms. L, sat with a long ruler, pleasuring the precise moments she could strike my hand because of a mistake. Classically trained at the Juilliard School of Music, she could spot even the smallest of errors. "You have be making an effort to be this bad! Nobody is this awful even when they aren't trying!" My first lesson was not going very well.

Ms. L had emailed my mom a week prior, sending her sheet music and warm-up drills, failing to realize that I had never even touched a musical instrument in my life. Yet, for some unfathomable reason, my parents had enrolled me in classes with a piano teacher who seemed to be the strictest in the whole state of New Jersey. It didn't take long for her to break me down. I was convinced I possessed no musical ability after her jabs like, "You might as well be playing with your eyes closed."
After class concluded, I waited in the lobby-like area of the center and realized that I had forgotten my sheet music (along with my dignity) in Ms. L's room. I cautiously opened the door and inaudibly mumbled that I was there to recollect my belongings (my dignity had dissipated in the room and was nowhere to be seen). Ms. L didn't even glance my way and held out the papers absent-mindedly in my direction. "What's the point of giving you this? It's not like practice can fix your situation," she sneered. The sheet music made for good tissues on the car ride home.

Ms. L's insults had sparked a personal ambition in me to prove her wrong. Every day, I sat at the piano for an hour concentrating on all aspects of my piece: every measure, every rest, every dynamic, and every note. My C scale also became smoother as I was meticulous playing every key in the correct order.

Despite the trauma of my first lesson, I was eager to go to class the next week to boast what I had practiced. I sat down on the piano stool and before I even started playing Ms L squawked, "What is this? Your posture is horrendous! Shall I nickname you the hunchback of Notre Dame?" The confidence I had walked in with, slowly depleted as the class proceeded. I thought I was decent for only one week of practice, but according Ms. L, I had apparently regressed from my first time playing. Her presence made me nervous, and fingers shook on the keys fumbling again on the last note of the C scale. I held my breath waiting for the insult and, sure enough, one came at me with full force. "Are you always this talentless or is today some sort of special occasion?" I was surprised the lesson didn't end with me sobbing again.
In the subsequent weeks, I practiced immensely for the sake of receiving milder criticism from Ms. L. I was also growing a slightly thicker skin for the demeaning remarks. During my fifth lesson, I managed to successfully play the C scale. Though I was constantly told otherwise, I could see myself improving and excelling at challenging warm-ups and difficult songs. In fact, I was now able to master such pieces in only two short weeks. I was no longer shouted at for poor posture and significant mishaps in my scales. Ms. L had not gotten more tolerant to mistakes, but rather, I was not making any fundamental errors anymore. Instead, Ms. L found ways to nitpick minor faults in my songs.

In the middle of spring, I noticed a poster in Ms. L's room about a national piano competition for young musicians. I was reluctant to ask for more details, but ventured with a simple question to begin with. "Hey Ms. L, how hard is this competition?" She glanced up as her half moon glasses slid down the bridge of her nose. "You must select a piece from your repertoire that is from the Romantic era. It's a mid-sized competition." Ms. L said dismissively.

Even though entering the competition seemed like a lost cause, I thought it would be a good learning experience to perform in front a panel of judges. Undoubtedly, Ms. L had prepared me for the critiques I was bound to receive.

On the competition date, all the auditioning pianists were crammed into a room the size of a shoebox, and were called one at a time to play their piece. My anxiety curled into my stomach, as I broke into a sweat and my hands began to feel clammy. When it was my turn to audition, I sat on the hard wooden stool and began to play my piece. The mesmerizing tune rang through the room and my swift fingers glided smoothly along the the keys. I could feel my apprehension of the competition disappearing, and but was still concentrated in performing the piece to the best of my abilities. As the end of the song neared, my heart nearly skipped a beat as I accidentally played a noted for a longer duration than intended. The entirety of my audition had been ruined. This mistake had probably cost me the entire competition.

Two weeks later, the audition results were supposed to be listed on the competition's website, but I had no desire to check how I had placed. I was so self conscious of my atrocious ending to the performance, I was sure I had received zero recognition from the competition. When I accessed the website, I froze as my eyes grew wide and stared in disbelief. I had placed second in entire competition. I realized that Ms. L's unconventional teaching style had not only made me an exceptional piano player, but also hypersensitive to flaws in my music (an excellent trait for a performer). Ms. L came up behind me, and gave me a genuine congratulations for my win: the first sign of any positive feedback I had gotten since my time at her center. "Let's aim for that first place spot next time," she winked. "Now, let's get back to work."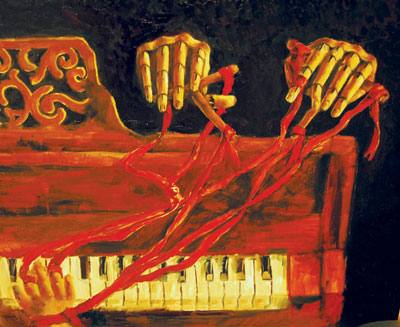 © Bonnie S., Fremont, CA