The Short Story
March 31, 2017
It was nearly the end of class on February 16, 2017, when the one who gives to much work called me up to "the desk". The one who goes by the name of Mrs. K called upon me to discuss about my English packet. Also about my short story I had to write the short story that would determine something very dear to me… my spring break!. This is the tale of how I came to write a short story in just two hours.
There I was I had just finished testing on my final history test. I was packing up my stuff to leave when out of nowhere "she" called me up. I slowly and cautiously walked up to her desk not sure what to expect. When I arrived I had taken a seat, the seat that everyone in the class dreaded. After I had taken my seat Mrs. K told me that we must discuss my English unit 2 packet. She gave me directions, directions that seemed somewhat unclear to me at the time. Mrs. K had told me that I must have my packet and short story done… by the end of the month!.(dun dun dunn)
When I arrived home, a home that since school had started seemed like heaven, I had a tough decision to make. For the powerful creature by the name of laziness beckoned my name. I could either retreat to my fort and succumb to the creature or fight the powerful creature. Twas a hard battle this battle was but in the end i gave in to the beast. I did not try to finish the packet until the next month until I had but a few days to finish.
The next month came and I was called once again to talk with Mrs. K. She had told me that I had to finish all of my work by the end of the week which of course was an impossible task. Then again Mrs. K loved to give tasks that are impossible to her poor helpless students. So I had finished another day at school but this time I got to work when I got home but alas it was not enough time. I had missed two days and had worked throughout them but returned on a Thursday. That was the day I had but two hours to complete the impossible, that was the day I had completed the impossible.
There I was sitting in class trying to think of a story I could write that would fit on two pages. It finally clicked when I had come with the idea to write a story about my life. So I got started and started working fast. It was now me against the clock in a battle for my spring break. I got to typing and it was all going good up until my fifth paragraph. By my fifth paragraph I had run out of things to write. I was not even 100% of the outcome of this story, but alas I prevailed. I had finished the short story and turned it into my teacher, who then corrected my work and thought it was terrible. But I finished nonetheless, I had finished and it was glorious, I was free, free for a whole week.
These are the events that led to the end of my story, the events that led to my success. I had learned a valuable lesson in all this, something I should've learned a long time ago. This is the story of how I wrote a short story in just the span of two hours.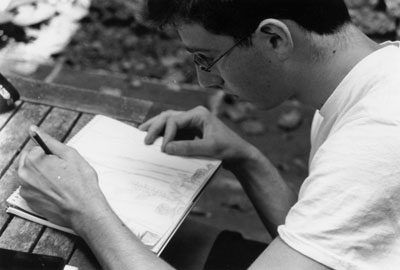 © Kira L., Bethesda, MD