Alone Together
March 28, 2017
The rain pounded in our ears. Our hearts beat in our heads.
I looked down at the earth as I trudged the downpour with my best friend. We were walking home from school. Our pace was slow because the rest of the day, we had to deal with other people. This was our time alone together. So we cherished our 20 minutes just walking home.
"Ugh, Anna. I wish you had been there earlier. Catherine was being mean again. I just wanted to punch her. But I can't get suspended again. My parents would kill me," I grumbled.
"Just keep me with you. She wouldn't bother you. She never bothers pairs. I don't see why that so hard to do."
Trust Anna to always be the voice reason.
"I do try to keep you with me. She just seems to find me if you leave my side for one second."
"Well then we will just need to get surgery to attach us at the hip. Perfect solution!"
I managed to crack a weak smile. But it faded quickly.
"Oh, Anna. You're amazing and I love you. But Catherine is just so horrible. I don't know how to fix it. No one listens to me."
"I listen to you." She sounded sad.
"I know. And I'm forever grateful for that. I swear I would be a wreck if I didn't have you. But one friend isn't going to do that much for me."
"Well, until they starting cloning people, I can't do anything else," she said indignantly.
"Ugh, give it a break, Anna. I've just had a rough day."
"I'm sorry. We can walk in silence if you want."
So we did. We walked with only the rain pounding and our feet hitting the sidewalk.
And that time with just her next to me was all I needed. We didn't have to say a thing.
When we stopped at the corner where we'd have to say goodbye for the day, I had a huge grin on my face.
This also happened to be the corner where the cemetery was, which was depressing on a normal day, but I didn't mind.
I turned to her.
"Thanks, Anna. You're the best. You know that?"
"No, I'm not the best. I just know you better than you know yourself."
"See you tomorrow."
"Yep."
And we both turned our separate ways.
As I walked past the gravestones, I didn't read them. I never did. So, I didn't notice the gravestone that read:

                             Anna Foster
                             2001-2017
         One who has been loved is never truly gone

As looked back to say goodbye to my best friend, there was no one standing in the rain. I waved anyway.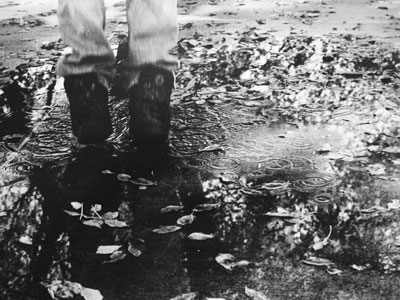 © Laura M., Eagan, MN