In Order to Survive
March 2, 2017
I stood there, hunched over him, in the rain. He lay there on the road, hands flopped over his lifeless body; blood gushing out of the wounds his body bore. The rest of the bullets that had missed his body dug themselves into the sidewalk, cracking the old cement where I once walked. The sirens in the distance grew evidently louder as I took his hand into mine. I waited for the life to drain from his eyes and his heart to pump for the last time. As he grew cold, I regretted each time the trigger was pulled and a bullet flew out of my gun. He was dead by the time the cops arrived; they were tearing me from him, just barely getting me off his body. They followed that up by shoving me brutally into the blue-white police car. As the car drove away with me, I could see them lifting the body away from where he lay.
My name is Jamal O'Daniel. I live in Chicago, specifically, on West Fulton Street. After being kicked out of my previous school, I surprisingly moved to here. I now live in the smallest, most cramped apartment in all of Chicago with my mom, who only lives there part of the time. She had never really wanted to be around me since dad left home. She always leaves at four p.m., when I usually came home, then show up around two a.m. barely making it into her own bed, usually collapsing on the way. I always wanted to earn money so that she wouldn't have to suffer for the little money she would earn. My brother used to take care of her and help her get home safe from wherever she stayed. Now, he too left home and I hadn't seen him since. Sitting at my small desk trying to finish the last pages of some math work that I had only just figured out I wondered:
"What if I could just live in the normal world where everyone else
lives with a nice family who have perfect lives."
I knew that would never really happen, but I digress. I had to finish my homework before it was due. Finishing, I waited in bed for the slow thumps that always occurred when mom came home. Hearing each thud as she stumbled from the door to the ground. She lifted herself up, clinging to the door handle which always rattled under her touch. As it creaked open, I heard one last thud. The sounds softened and I soon fell asleep.
The next day, I woke up at 5:30 a.m. and packed my bags. I ran toward the door, almost forgetting my breakfast and lunch that lay on the rusted kitchen counter. Before I left my house and made my way to school, I hugged my mom, kissed her on the forehead and left. While doing that, I noticed that she had wrapped her arms in cloth which had been previously covered in blood. Her pupils were still dilated and she shook whilst grabbing the sugar for her coffee. I worried for the wounds on her face and hands doubled from the night before. Taking a last good look at the mess she was, I left the apartment. I continued my way to school, arriving at 6:52 a.m. and barely making it in class before the late bell rang. Every day it was the same, class by class I learned only as much of the subject as I needed so I could understand the homework due for the next day. I had never really had friends inside of school so when I had lunch, I sat alone in the cafeteria picking at the little food that was available. After school finally ended, I met up with my only friends who, as usual, waited for me in their dark vehicles. I hopped into the back and was told that we were going for a little spin around town.
While I sat there twiddling my thumbs and thinking of delicious meals, my friends devoured their Big Macs and fries with a large soda. Finishing their meal, they briefed me on what the plan for tonight and tomorrow was: I had to somehow involve myself in something called a "drive-by". Only rarely have I heard of this but I had never really known the meaning of it or why it was a common practice for such gangs. They called it the "initiation" of some sort. I had to kill someone of the rival gang. I was given an Uzi, which I had known previously from video games, and a full magazine containing about 30 rounds of 9mm ammunition. I slid the rusty mag into the 'war-torn' Uzi and barely pulled back the c***ing slide when I got yelled at,
"Ya ready? We almost at the street."
As sweat trickled down my hands, I wiped them against my pants one more time. I though of how I could help my mom with the money that was coming my way after all this. My friend reeled down the window and I held the gun out of it, ready to fire. Yet in the brief moment I saw a familiar face, one that I seen in my past, but I pulled the trigger before I could question my actions. A wall of bullets fled from my gun's barrel each with a deafening sound entering holes into the person and the sidewalk he was on. I dropped my gun as it emptied and looked at the carnage that I had conducted.
"Go pick dat up, dat cost a lot of money ya know," one of them said.
I jumped out and grabbed the gun when I noticed something on the body. Of course it had the clothing matching the rival gang color but the person carried a wallet that must probably fell out of his pocket during the drive-by. One peak into the blood-stained wallet revealed his name: 'DeMarkus O'Daniel'. I dropped to the floor, hugging him as the rain commenced. All I ever wanted to do was help. Now, I stood over the corpse of the only person that mattered to me; my brother. I sat down there with him, awaiting the sirens then stood and watched. I knew that he would never come back to me and it was my fault. The sirens grew louder and I still stood there, hunched over him. My tears mixing with the heavy rainfall and the blood of my fallen brother.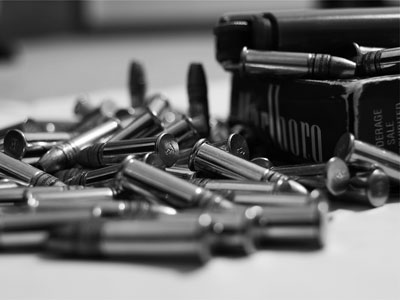 © Noah P., Platte City, MO