Wishing Well
February 27, 2017
In the spring of secondary school, my father got a new job in California. We packed all of our bags from Seattle and headed south to San Jose. I chose not to tell him how upset I was about the move because it wouldn't make a difference anyway; I didn't have an option. It was an inconvenience for me. I had finally established solid friendships after my parents' divorce. I was leaving my track team I had trained with since junior high. I was supposed to be our state representative for the 100-meter hurdle race. I was relinquishing my duties as the Student Body Class Captain. I was abandoning my best friend, Emma, who I've known since I was three. No matter how much I expressed my opposition, I couldn't convince my father to stay. He wanted to follow the money-trail to San Jose and leave the past in the past. I hadn't seen my mother in years and my new stepmother had just entered the picture. This move was their fresh start; a way to have a clean slate without the baggage of our old life.

I was transferred to Lincoln High School in the middle of their second semester. For the first few weeks, I awkwardly wandered the hallways, ate lunch by myself, and often hung out in the library. Everyone already had their friend groups, and it was almost a nuisance for me to barge in. I would have lost it if it weren't for the fact that the track coach, Mr. Bowman, let me join the team even though the season had already begun. Even so, there were cliques on the team already. A few other athletes ran hurdles, but I felt too resentful to introduce myself. Deep down I knew I would never develop the bond I had with my old team. There's only so much change and isolation a person can tolerate. I felt like I was suffocating. I desperately needed to hear something familiar. I dialed Emma's phone number.
"Hey! What's up? I haven't heard from you in forever." Emma was shouting because there was so much noise in the background. I could hear her trying to shush everyone around her.
"Sorry, I've just been adjusting to everything. It's been tough," I could barely squeeze the words out.
"I miss you! How is California? Are there a lot of hot guys?" the music around her had subdued.
"It's alright, I guess. I just wanted to hear your voice. Everything has been giving out from under me. I don't--"
"Sorry, do you think I could call you later? I'm at the pep rally right now."
"I guess,"  I sighed, feeling dejected. I cut the line.
*       *         * 
On the day we were learning about different disorders in health class, I felt a phantom-like tap on my shoulder. I turned around, almost unsure someone was interacting with me. "Do you need some help on the assignment?"
"Sure, pull up a chair." The edges of my lips curved up, comforted by the idea that I was starting to fit in. 
*       *         * 
Mia and I became close friends through the months that followed. I latched onto her and she reciprocated the same tight grasp on my well-being. We became inseparable. Our thoughts and actions were intertwined. She would eat my lunch, hang out at my house, and give me advice.
It became a habit to hang out at a wishing well we had found before track practice. This was our secret hideout where no one would disturb us, where we could divulge in our secrets.
The porcelain bowl allured me in that aspect. It could flush away all the secrets I told it. The wishing well was my escape from everything that made me feel trapped: school, parents, and lack of any friends. At the well, I could hope for anything by making a wish. All I needed to do was stare into the bottomless pit and purge all my feelings away. It was my relief from reality.

A few more weeks had passed. My performance for the 100-meter hurdle race was quickly deteriorating. Every step felt like I had bricks tied to my shoes. I felt stagnant. Heavy. It was like every ounce of my body was weighing me down. I was getting slower and slower while life was passing by. It felt like all these beautiful pieces of life were floating around me, and I was trying to keep up, but I couldn't. I couldn't grasp onto them no matter how fast I ran because my body didn't work right anymore. My knees couldn't support me, my arms couldn't hold anything, I was tired all the time. Regardless, even if my times were slower by half a second, Coach Bowman didn't care because I still qualified to be a representative for my new team at the state meet.

On the day of the state competition, I stepped onto the black rubber and stood in the lane marked with a two. My hands started to tremble after a few minutes. My heart was pounding. Sweat was dripping from my forehead. I started to breathe heavier. Before the race, I had stared at the wishing well, my eyes just as watery as the remnants that floated in the clear liquid. I made a wish about this race. Bang. I leaped from my blocks and everything went black.

*       *         *  

Mia followed me to the hospital, where I've been admitted for a few months now.

"You know the drill," the nurse said as she knocked on my door. She had come in the night before during the set dinner time with a fresh tray of cauliflower, bread, and beef. I showed her empty plates from my meal last night.

"Did you like it?" the nurse warmly asked, "Your parents told me you like cauliflower." I couldn't remember the taste of cauliflower.

I slowly rose from my bed. My hospital gown had fallen off one shoulder. Even with the kid's size, I still had to wrap the strings around my waist twice for it to fit. I stepped on the black rubber part of the scale, already knowing what it would say. The door to my private bathroom was removed, but I timed when the on-call nurses switched shifts.

Last night I fixed the strands of hair that I had pulled back and wiped my sour lips with a thin piece of toilet paper. I stood up and looked to the mirror next to me. I peered at my reflection until I bore holes in my skin. I lifted the thin piece of fabric draping over my abdomen and appreciated my protruding rib cage. My eyes traced my half-naked body to my face. My eyes were bloodshot with dark, crimson veins. Tears polished my eyes while I could only think about how disgusting my body was.

Bulimia had crept up on me in health class like a friend that had my best interests in mind. It held onto me with a deathly grip. It haunted me during lunch, followed me to my house, and twisted lies into advice. I couldn't breathe. I couldn't function. I couldn't think. It left me to starve until my body rotted away before finally consuming me. 

I had gazed at the wishing well again last night, my eyes fixated on the bits of bread and beef swimming in it. I watched as the well swallowed the pieces, taking my wish with it.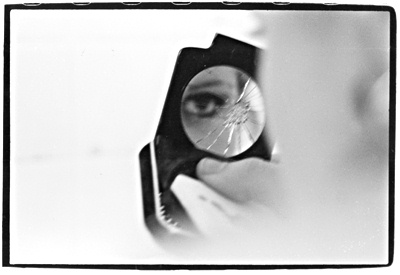 © Heather W., No., Brunswick, NJ