Bryce
February 8, 2009
Bryce


'You really think your something special?' I said. We were sitting on the grass in front of the pond in our backyards. Periodically one of us would take blades of grass between our fingers and uproot them out of the ground. I would throw them at Bryce because he never seemed to care. He never threw any back either.

I asked questions, but I never got the answers. Not the truthful ones anyway. Bryce was just about the only person on this earth that kept me sane. There was just something about him that made my heart sing. I could never figure out if it was because he lacked the need to tell me anything. Or the way he left me figuring the answers out all by myself. He told me he loved me that summer. But then again we were only fourteen. What fourteen year old knew the true meaning to love? I sure did, Bryce however never fully grasped it.

He distracted me from a bitter family life. He seemed to woo me away from my lackluster childhood. He brightened up my day. Making it seem just a little less dull. He helped me fly by the seat of my pants. He helped me see the irony in the smallest of things. Bryce was my giver, the one who truly deserved me heart. But you can't keep giving when there's nothing left to be had.

We kept growing and he seemed more eager to lave than I did. Together we got our drivers license and we shared our first kiss. I even found myself staying up all night with him eating Sour Patch Kids 'til we got sick. Each month on the 26th you'd give me a flower, which I'd hold in my hand. Knowing full and well that was his heart, and it was mine to keep. Weeks went on like this were nothing could touch I was invincible.
Suddenly my life just didn't seem enough for him. He left. He left me for that world out there. A world that I feared most without him. It was a place where you were told the truth whether or not you wanted to hear. I guess I just wasn't ready to hear it.

For the nest 2 years I filled up six notebooks with things that I would tell him if I ever saw him again. Those composition notebooks were my secret artwork. If I had the guts to even confront him. Those notebooks made me cry at night when I thought no one was listening. It turns out someone was listening, God. He was there the whole time, even when Bryce was here. He was giving me wings to fly away. I never had the guts to tell Bryce how I really felt about him. But I'm telling you about them, and for right now that's just enough.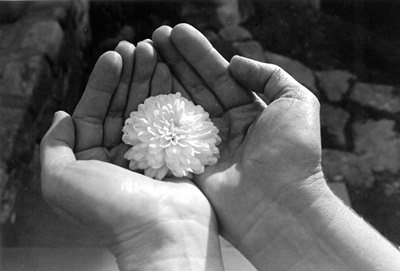 © Beth S., Marblehead, MA