Pheobe
February 7, 2009
I was beautiful. I was the best. People used to just stare at me, and it felt good. I had it all, good looks, great friends, and a boy friend that loved me. Now I'm just a pretty classic Swedish beauty without legs. I have been forced to move from my beautiful home in Sweden to Cleveland, Ohio to live with my Aunt Gina, because my parents were killed in the car accident; that stole my legs and paralyzed me from the waist down.

Today is my first day of school in Ohio, and I look a dead beat who can't do anything. That car accident should have just killed me like my parents, so that I would not have to be looked down on by others. I envy all of the people at my school, they can walk, and they can go through a crowed without every one staring at you with pity.


As I wheel my way to the front door of the school everyone stares at me, a few people come up to me and ask if I was new and if I needed any help. It was very obvious they were just helping me because they felt sorry for me. When I finally got inside the school everyone was still staring at me, but not in the good way they used to when I was pretty. They stared at me as if I was not human. As I got close to people they would back into lockers as if I needed ten feet to get by.

When it finally was time for lunch, a bunch of people told me I could sit with them, but they did not say it as if they wanted to make friends with me; they felt sorry for me. But if pity gave me a place to sit, I would take it. The girls would not stop starring at me and asking the same questions over and over again. 'How old are you?' '15' 'Were are you from?' 'Sweden' 'How did you get in that wheelchair?' 'Car accident' 'Why did you move to Ohio?' 'My parents died' These questions I answered about a dozen times.
When the last bell finally rang I practically ran back (figuratively speaking) to my Aunt's house. When I got home there was a pregnant girl named Maricela in there giving birth. So my Aunt told me it would be best if I went for a walk (bad choice of words, because I can just go for a WALK) and come back in a couple of hours. So I had to go outside, no idea were to go. I decided to go down the street to a place that looked like a garden. There was a lot of open space for planting. I saw a man standing near some tomato plants. I asked him if I could do some gardening there. He said he did not care and if it made me happy, to go ahead.

I wheeled to supper market and bought a bunch of flower seeds, because they were the least expensive plants. Then I bought a watering can and wheeled back to the garden. I then realized it would be hard to plant being as I could reach the ground. I asked the man standing next to me if he would lift me out of my wheelchair and set me on the ground so that I could plant the flowers. He said yes, but it was quite obvious he did not want to do it.

After he put my on the ground I held myself up by my elbows, and I planted the seeds and watered them. But I now had a problem, the man who had taken me out of my wheelchair was gone, and I think he had no intentions of coming back. I slowly with my elbows tried to pull myself back into my wheelchair. After about 30 minutes of struggle a man that had seen me struggling came over and helped me into my wheelchair. I felt so helpless and embraced I could not even get into and out of my wheelchair without help.

I finally got back to my Aunt's house, creaking the door first to make sure Maricela was not still giving birth. It looked as if the coast was clear, so I walked in to see the new mom holding about the cutest baby I had ever seen in the new moms arms. She asked me if I wanted to her. Then it hit me; I would never be able to have children because I was paralyzed. I said no as calmly as I could and ran to my room.

For the next few weeks Maricela's parents were out of town so she would be staying with us. Seeing that baby girl, she had named Lilly, everyday hurt me so badly. I wished I could have a baby like that. So to try and stay away from the baby I spent all of my free time at the garden with my flowers, treating them like my babies.

One day when I was gardening I herd someone behind me, and it was Maricela. Thankfully her baby was not with her. She did not speak she just started helping me with my garden. I was in a way thankful I had someone to do this with me. And also I was thankful she would be there to help me back into my wheelchair so that I did not have to ask a stranger.

We went to the garden every day together, some days she brought her baby to see the amazing flowers growing. The garden had saved me, it gave me a friend. And my new friend never looked at me in a weird way because I was in wheelchair, she looked at me like a person. After Maricela came into my life I turned from a person still trying to admit she was in a wheelchair to a girl who hung out with her best friend everyday, and felt so happy it did not matter if she could walk or not.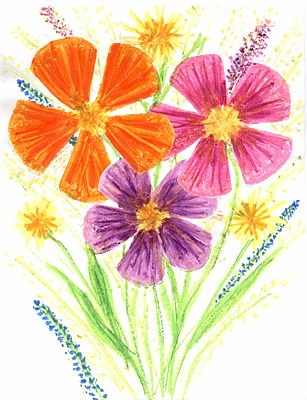 © Marissa M., Rockford, MI