You. Lunch.
November 10, 2016
As soon as you finished your lunch at Mickey D's, the waitress there comes up to you and grabs your shirt. After a period of silence, she turns to her fellow employees and says
"We only have six minutes till the department comes! Hurry out of here! Go!" You do as you are told. On your way out, you see everyone acting normally: Eating their patties with "meat" and "cheese" or drinking their frozen sugar milk. You dash to the door with little to care for everyone around you. You realise the door is feet in front you you. You stop. In the small distance between you and the door, you realise that this is all just a prank and turn around to what is probably everyone laughing.

But you would be wrong.

Everyone would be awestruck, food falling out of mouths as they open with a look as if they had just seen death in their eyes. You turn to the employees sprinting as fast as they could toward you as they shouted. "Move! Get out of the way!" You try to move, but you are fear stricken. The waitress who warned you in the first place dives at you. You look down as you feel the cheap tiles slowly fall away beneath your feet. You fall. As you fall, you see the hole in the floor you fell through above you. As people gather around screaming and panicking, you begin to feel a bit of heat. The nice warm feeling however, quickly ascends into an intense burning sensation that engulfs your body. You don't scream though, because somehow you know this will all be over soon. You start to smell a fatty smell. You hear the sound of popping bubbles below. As you land in your greasy grave, the last words you hear are "Open up! It's the department of restaurant safety!" You fade into black, never to wake up again.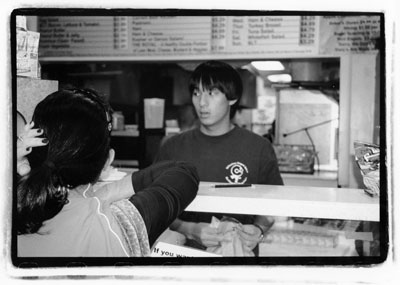 © Rachel D., Bethesda, MD