Just a Dream
November 1, 2016
"Jenna you're on," the cameraman states as I begin to interview the best running back of the 2030 college football season. "Hello, I'm Jenna Jones and I'm here with Kyrie Jackson who might be the best college running back of all time, playing for the Ohio State Buckeyes. How do you feel after having the game winning touchdown for your team against your rival, the Michigan Wolverines?",  I ask as my heart almost beats out of my chest. "Wow, I just really feel great to be able to do this for my team and for my family back home", he responds. "Do you think your team will be able to win another national championship this season?", I question. "If we continue working and playing hard I believe we can come out on top", Kyrie smiles. "Okay thank you Kyrie. Good luck to you and the rest of your teammates this season". "Thank you so much!", Kyrie states as he walks off to the sideline with the rest of his team celebrating. I look at the celebrations going on around the enormous stadium and the entire moment seems surreal.
I have just completed my first major interview for ESPN. Millions of thoughts run through my mind like, did I look good? Did I stutter? Did I talk too fast or too slow? I start packing up my things and head to my car outside of the stadium in Columbus, Ohio. Overwhelmed with excitement I called my mom. "Hi, sweetie! You did awesome, we just watched you on the television!", my mother squealed. She might be more excited than me, I thought to myself. "Thanks Mom! I was so nervous that I would mess up with hundreds of thousands of people watching," I said as I wait in the extremely long line out of the parking lot. "Well you did great sweetheart, when are you heading back home?". "My flight is at seven, so I'll probably land in Newark around eight-thirty". "Okay, I'll see you then!", Mom answered. "See you later," I stated as I hung up the phone and continued to drive. As I drive through the streets of Columbus Ohio I see hundreds of Ohio State fans crowding the streets in scarlet and gray. It's truly amazing how this sport can bring so many people together, I think to myself. Loud screaming and chanting fill the streets and everyone is as happy as they can be. Man do I love my job!
When I arrive to my hotel room I begin packing up my clothes into my suitcase. Excitement rushes through my body as I thought that I would be going to an important sporting event at least once a week. I grew up absolutely loving football and watching it every Saturday and Sunday with my family and friends, and now I get to do it as my job! I lay on the hotel mattress thinking about watching the games while I was younger. Watching the women sportscasters, especially Erin Andrews, and hoping to be like them one day. Hoping to be in the spotlight, with millions of people watching you, looking at you, listening to you. I look at the clock as it reads 4:53 and begin to roll out my suitcase into the carpeted hotel hallway. After, I checked out of my hotel room I hauled a taxi to drive me to John Glenn Columbus International Airport. Once I get to the airport, I bustle through security and an hour later I begin to board my flight to Newark, New Jersey. Once I board the JetBlue airplane, I sit down in my seat and did my favorite thing, read a book. I begin to doze off until the book slowly left my hands and I was out like a light.
"Honey, you have to wake up, it's time to go to school", my mom says as she shakes me.  "Jenna you need to wake up come on, " my mom repeated. School? What is she thinking? I thought to myself. I slowly get up and stare at her with a tired and confused look on my face. "Okay, now you need to get in the shower, it's 6:09 let's go", my mom lifts the covers off of me. "Wait I was just on a plane back from Ohio, what do you mean it's time to go to school?", I argued. "Are you crazy? You were just sleeping in your bed and now it's time to get up and get in the shower and go to school". I lay back down extremely puzzled, "But I was just at Ohio State interviewing Kyrie Jackson after their huge win against Michigan". "Callie, you must have been dreaming because trust me you are way too young to be interviewing a college football player," my mom laughed, "Now get into the shower because you have to go to school". I slowly make my way to the bathroom and turn the shower on. As the cold water hits my face, I finally realize that it was all just a dream. I really can't wait until that dream really does come true, I thought to myself. After I got out of the shower, I quickly got ready for school. From that day on, I worked extremely hard in school to eventually make my dream come true one day. I wanted to get the same feeling and the same rush I had during my dream. I wanted to strive for greatness.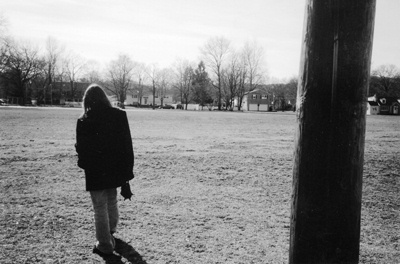 © Rosalie P., Pompton Plains, NJ