Significant Glimpses
March 4, 2009
Her one true friend told her to write it all down. Everything that wouldn't leave her mind through neither thoughts nor words. He said writing it down would be "a combination of the two". He said that's the best you can do.

When she was done, and her mind was somewhat settled, and the muscles in her hand were cramping from writing so fast, and the ink in her pen was starting to waver, she carelessly threw both the pen and everything she had written across the room. They landed on the dresser, missing her aim of the trash can where most of her creativity ended up.

Later that night, the girl closed her cell phone after a short call. She redid her makeup and changed into clothes less comfortable but more flattering to her figure. She climbed on top of her dresser and knowingly left through the window, forgetting, or not forgetting, to close it behind her.

It was a windy night, and sometime between when she left and came back the wind determinedly came through her room and carried her innermost thoughts out the window with it.

That little piece of paper traveled all through the night. It blew right past her parent's window where they slept with uneasy dreams that they never remembered in the morning. Or maybe they did but kept it to themselves. It blew past the house of her next door neighbor whom she had seldom seen and never spoken to. Then a particularly powerful gust of wind carried her secrets high over the city, spinning in circles under the stars. They dipped up and down over the millions of artificial lights that never turn off because of the universal fear of complete, absolute darkness. As it swayed between the lights, it also swayed over the hundreds of people who depend on those lights almost as much as they depend on each other, though they don't always know it.

The little note picked up a downward speed and was soon blowing again through the city, past a homeless man sleeping on a bench, the highlight of his day being a smile from a stranger. It went past the girl's one true friend as he painted his troubles away. But troubles always came back. The worn little piece of paper swooped through downtown, passing all those people stuck with closing hours, and the ones about to begin a long, lonely drive home. It passed all the closed stores that left their lights on all night, creating the beautiful mirage of iridescence that the note was flying over only moments before. It blew past the girl herself as she did whatever she did with whatever unworthy guy she was "hanging out" with at the time. It flew all through the city, seeing so many random, unexplained glimpses of so many people's lives before it finally came to a stop.

It landed right beside me on my rooftop, where I sometimes go when I cant sleep to look at the lights and stars.



Truthfully, I had no idea where it came from or anything about its life before it gently and deliberately landed at my side. That's just, for some reason, the story I came up with. Its possible'.

I picked up the depleted little piece of paper and read it over about ten times. I didn't really know what to think of it or what exactly it meant. But I felt a strange compassionate understanding, and somewhat connection, to whoever this person was that was also feeling confused tonight. And although I was still essentially alone, at that moment, it didn't feel like it quite so much. Maybe that's all I, or the person who wrote it, or anyone really, ever needs.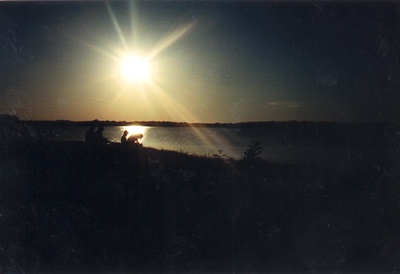 © Angela F., Bonham, TX