Reflections
March 3, 2009
I stare into her eyes, eyes I know so well. Eyes I see every morning. Big brown eyes. But these eyes I see now, though familiar in shape and size, have lost their unique glow. And their laugh, their mark of authenticity, has been drained from them along with all color. The pupil in indistinguishable from the iris. Two black holes staring at me, staring though me.
She reaches a hand up to touch her face. Her cheekbone, so bright compared to the shadows under her eyes, seem so sharp, it looks as if their cutting through her skin. But maybe that's just the effect of the harsh florescent light. And maybe, it's the same light that is creating the deep shadows which outline the purple bags under her vacant eyes.
Her finger lightly traces her jaw line down ward, then, moves over to her lower lip. She has perfect lips. The ones you see on lipstick ads in fashion magazines. Round, slightly parted. But her lips are chapped and the skin has broken in several places.
She dropped her hand limply. Though I knew her complexion was tan, it seemed faded, like an old shirt that has been washed too many times. Almost translucent.
I stand there looking at her. She is beautiful: big eyes, high cheek bones, round lips. But aside from all this, she radiates a certain type of beauty that only the sick and dying can obtain. And it was this cadaverous beauty that deepens the hollows of her cheeks and eye sockets.
She swayed lightly where she stood and I instinctually reached toward her. I wanted to help her. To tell her I knew exactly what she was afraid of. What she was afraid of becoming and that I knew she had the strength to move forward. That she could be brave, and smart, and gorgeous in a way that radiated health.
But my mouth will not open. My heartbeat quickens as the desire to tell her all this had evolves into a thirsting need. I can feel the hysteria rising with every passing second and yet the girl continues to stare through me. Why does she stare like that? Why? Is she afraid to look elsewhere? Is she afraid to see herself? See the dead thing she has become? And if she realizes it, will doubt the courage has to change what this corrupt world has created?
But I know she can. I know that caged inside her fragile body is all the courage she need. But I can't tell her. Why can't she hear me? I am screaming at her. I notice that the hand I reach toward her is shaking. But so is the one she is extending towards me.
She has finally noticed me and as soon as we touch she will know. She will know that I believe in her. Our fingertips touch. Hers are cold and hard, but I am happy. All my thought crash into her and a warm feeling of relief buzzes through me. She knows. I look up and she is looking at me for the first time and she is smiling.
The train jerks to a stop. I stumble backwards, our hands no longer touch. Then the train doors open and my reelection slides away from me. I step off the train and on to the platform. I take a couple steps then turn around letting the crowd of passengers pass by and around me. I am oblivious to them as they are to me.
I look at the dark train windows and see her standing in one of them. My reflection. She is still smiling because she knows and because she is thankful. Then we turn and both go our separate ways.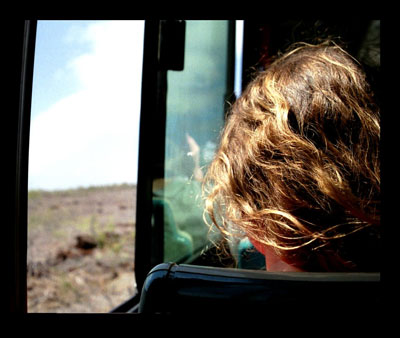 © Kate S., Hopkinton, MA