Coming Home
September 29, 2016
Dressed in my green army uniform, I duck for cover, as bullets blaze past. My team heads back, but I see a fallen man who I can't leave behind. I race towards him, throw his limp body over my shoulders, and run for my life back to camp.
Dressed in my ripped jeans and tank top, playing with the kids as if I was one again, I duck for cover behind the playset in the backyard, as water balloons fly at my head. I notice my 2 year old niece crying in the sand box. She has a scrape on her knee from falling. I run over to her, give her a hug, and tell her it's all going to be ok.
As we sit for dinner, I fold my hands and say a prayer as I look at the MRE sitting in front of me. I thank God everyday that I'm still alive and that my family is back at home, waiting for my arrival.
In the gold walled dining room, I stare down at my dinner of roasted turkey as we join hands and say a prayer. I ask God to keep my fiancee safe in Iraq, while I sit at home longing for his arrival.
It's been six months without my family, and thousands of miles above ground I think of where this plane is taking me. Home—where my family is. Family—the reason why I left. Why I left—to keep them and my country safe. 
It's been six months and it's Memorial Day. My fiancee is finally coming home. We all sit anxiously at the security gate at the airport, not able to pass, waiting for his smiling face to turn the corner. As I sit, I think what this day means to me. The sacrifice he's made for his family, for me, and for everyone in our nation. Finally, I see his gray green uniform and brown buzzed hair turning the corner. I burst into tears, tear past the security guard, and run for my life into his arms.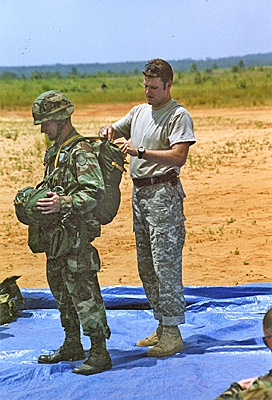 © Mark A., Phoenix, AZ