They Can't Hear Us
September 15, 2016
     I can hear you. You always come home after I'm asleep. The house is quiet until you walk in and slam the door shut. I can hear you stumbling around in your drunk haze. Emily wakes up and crawls into my bed. You slowly make your way to your room and wake up Dad. I can hear him trying to reason with you. You're getting mad. You always get mad.
     "What the hell are you doing with your life? Why do I have to make all the money for this f***ing family?" You yell, and wait for an answer. Emily gets closer to me and I wrap my arms around her. She can hear you.
     "Sweetie, please calm down. I'm looking for a job. I promise I'll have one within the week." We know he's lying. He doesn't want it to happen again though. Last time he told everyone he was hit with a baseball while playing with me. Silence.
     You start laughing. It's not good when you laugh. Something's wrong. "That's what you said last week." There's a crash; you must have run into something. "I'm sick of you lying. That's all you ever do. Where's that little b**** you're f***ing?" We can hear you.
     "There's no one else."
     "LIAR!" You yell.
     I feel Emily jump. She starts crying, and I kiss her head.          "It's okay," I whisper.
     There's a muffled noise. Distant. I can hear Dad asking you to stop. He doesn't fight back. It sounds like he's crying. We can hear him.
     It gets quiet again. The front door opens and slams shut. Someone leaves in the car, taking the sound of gravel with them.
     Emily sleeps with me that night. We stay quiet. You can't hear us.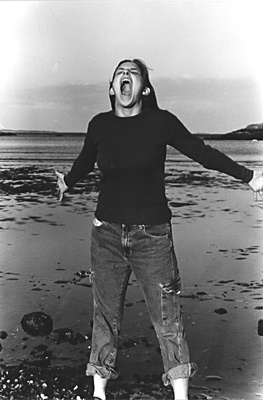 © Jessica M., Marblehead, MA